Sri Lanka gained from Geneva crisis : Govt ready to face challenges
Posted by Editor on March 25, 2012 - 8:42 am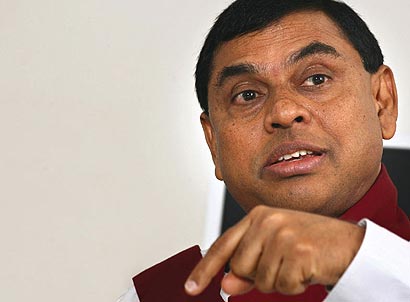 Since terrorism was eradicated, peace, national integration, political stability and sound economic management have fortified Sri Lanka to defeat any challenges. Consequently, the national development project, one project for each village linking every village could be launched, said Economic Development Minister Basil Rajapaksa.
Time and again we faced various challenges. Some countries tried to deny the GSP plus facility when we were in a critical phase economically.
On the eve of the Presidential election, conditions unfavourable to the country were laid down and we were told that the GSP+ facility would be withdrawn unless we accept such conditons. However, President Mahinda Rajapaksa said that he would not betray the country for the sake of economic benefits.
When he did not accept such conditions, the GSP+ facility was denied to us.
Speculation was rife in certain quarters that Sri Lanka's garment industry would collapse as our exports to European countries would be affected. This did not, however, happen as they anticipated. We made considerable progress in our exports including garments even without the GSP+ facility.
At one time our foreign resources descended to a very low level.
Some countries stood in our way when we negotiated for foreign aid; others tried to impose harsh conditions on us. None of such obstacles could impede us.
Today our foreign resources have risen to an unprecedented level, the Minister told a conference at his ministry to discuss the "One project to each Village" program.
The minister said far from losing, we have gained from the Geneva crisis.
Both, the country and the nation have united. Religious leaders took to the streets to protest against the US sponsored resolution in an organised manner.
The private sector media personnel and the youth too joined in the protest. This was the first time where we had witnessed such strong unity among the masses in the recent past.
There is also a small group of people who are determined to make capital out of the situation irrespective of what happens to the country.
The fact that the people formed themselves into a massive force is an appropriate response to these opportunists.
He said we need not depend on one country or region; neither should we concentrate only on the Western market. We should dispel the concept that Europe always means world economy.
We have new markets in regions such as India and China. India, China and the Middle East are lucrative markets which we should conquer for our tourist industry.
Countries which preach that economic affairs should be divorced from politics use it as a tool against us.
The Security Forces under the stewardship of President Rajapaksa eradicated the most ruthless terrorist organisation.
Whether economic, political, or international, challenges are nothing new to us.
We are ready to face them, Minister Rajapaksa said.
Courtesy: Sunday Observer
Latest Headlines in Sri Lanka