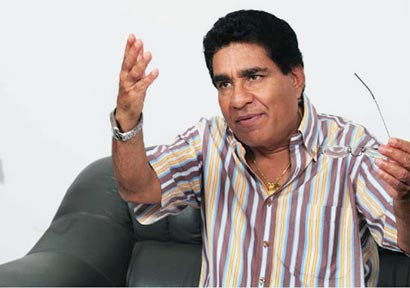 The central committee of the SLFP yesterday unanimously decided to take disciplinary action against Minister Mervyn Silva over a statement that the minister had made asserting that no one could touch him while President Mahinda Rajapaksa was in power.
Informed sources said that President Rajapaksa had instructed Party Secretary Maithripala Sirisena to call for an explanation from the minister regarding his statement.
Sources also said that the central committee, which had met at Temple Trees last night, had discussed Dr. Silva's case in depth. It is learned that the president had said that the party had to face difficulties on account of Dr. Silva making such comments.
Speaking at a demonstration, Dr. Silva had said that even if a tsunami came from Sigiriya, "I'm sure that no tsunami will flow against me from President Mahinda Rajapaksa".
Courtesy: DM Online