SRI LANKA'S LIES AGREED UPON SCREENED IN U.S. CONGRESS
Posted by Editor on November 6, 2011 - 2:35 pm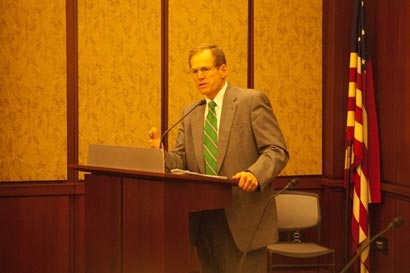 Onlanka News – By Janaka Alahapperuma
Gathering hosted by Sri Lankan Congressional Caucus and Embassy of Sri Lanka includes secretary of defense's speech, panel discussion on reconciliation
Congressman Jack Kingston: "I've never seen a people who have come so quickly together, and after 26 years of division."
Ambassador Jaliya Wickramasuriya:  What we wish for is cooperation, friendship and goodwill to take our country forward."
Minister Rajitha Senarathna: "Since Independence, the  highest spending for the development of the North, as well as the South, is under the leadership of President Mahinda Rajapaksa."
The Sri Lankan Congressional Caucus and Embassy of Sri Lanka sponsored the screening of the video "Lies Agreed Upon," – a rebuttal of allegations made about the end of Sri Lanka's conflict against terrorist by a British news program on 02 November.
The screening included a panel discussion of Sri Lanka's 26-year conflict against the terrorist group Liberation Tigers of Tamil Eelam and reconciliation and redevelopment efforts since government forces defeated the LTTE in May 2009.
The event was attended by a large, representative gathering, including NGOs, human rights groups, congressional staff members, professionals and members of the Sri Lankan community.
"This is an important opportunity for both sides to be heard," said U.S. Congressman Robert Aderholt, (R-Ala.), a co-chair of the Sri Lankan Congressional Caucus. The caucus' other chairman, Congressman Chris Van Hollen (D-Md.).
Apart from the screening, guests and Congressional staff members also viewed portions of a speech by Defense Secretary Mr. Gotabaya Rajapaksa on the release of the Defense Ministry's report: Humanitarian Operations Factual Analysis July 2006 to May 2009. Copies of the report and the "Lies Agreed Video" CDs were made available to all guests.
Congressman Jack Kingston, (R-GA.), who two weeks ago was one of three members of Congress to visit Sri Lanka, also spoke during the screening.
"I had a casual conversation with a police officer," Congressman Kingston said of his visit. "He said, 'Things are different now. We are getting back to normal. You can go to the market place again. We are so happy and pleased.' This was an off the record comment, and what it did framed up so much of what I walked away with."
Dr. Rajitha Senarathna, Sri Lanka's Minister of Fisheries & Aquatic Resources Development, also attended the screening. Minister Senarathna gave a brief talk, describing how redevelopment of the North has created jobs and aided those who have resettled there, and how the economy is improving with the fishing industry.Still, Dr. Senarathna said, the conflict slowed development.
"This was a problem that we had in our country – the North was neglected and the South was neglected," Minister Senarathna said. "There was a rebel group in the South, and a rebel group in the North." "Today this president spends the most money in the North, as well as in the South."
The discussion panelists included Ambassador Wickramasuriya, Ru Freeman, a Sri Lankan native, author and activist whose recent novel,  A Disobedient Girl, has won popular acclaim and Raymond Vickery, a senior director at the Albright-Stonebridge Group, a Washington-based international relations firm that is headed by former U.S. Secretary of State Madeleine Albright.
Ambassador Wickramasuriya spoke of the longstanding relationship and strong trade ties with the U.S., reconciliation and redevelopment work in Sri Lanka and efforts by the expatriate community in the U.S. to help relatives back home.
"I look forward to your continued support to enhance the image of Sri Lanka as a peaceful and reconciled society, which is governed by democracy, the observance of human rights and the rule of law," Ambassador Wickramasuriya told the audience. "What we wish for is cooperation, friendship and goodwill to take our country forward."
Ru Freeman told the audience that until recently she had not been to Northern Sri Lanka since she was a child, but that a trip there last year with her children and husband left her hopeful.
"Even among people who spoke no Sinhala or English, I, who cannot speak Tamil, felt at ease," said Ru Freeman. "We found a way to communicate…What I felt when I was there in person and what I feel as an expatriate Sri Lankan is the arrival of the future."
Sri Lanka defeated the LTTE in May 2009, ending a reign of terrorism in the country that began in 1983. Since the conflict's end there have been no terrorist incidents.
However, Britain's Channel 4 earlier this year aired a report using un-sourced video and unattributed allegations that accused Sri Lankan forces of human rights violations. In reply, Sri Lanka produced a point-by-point rebuttal, Lies Agreed Upon, which described, for instance, how one Channel 4 source is actually a longstanding LTTE militant. Other discrepancies were revealed when doctors and civilians who were held by the LTTE went on the record to refute claims made in the Channel 4 report.
Congressman Aderholt, in particular, noted that "both sides of this story need to be heard," and that "Lies Agreed Upon" screening represents an effort to fully air the issues involved. "There needs to be balance."
The books and other documentations prepared by Ministry of Defence and Ministry of Justice which include all the correct and up to date details of Sri Lanka were distributed among the participants.
Video:
http://www.youtube.com/watch?v=-sm3XIXdh-k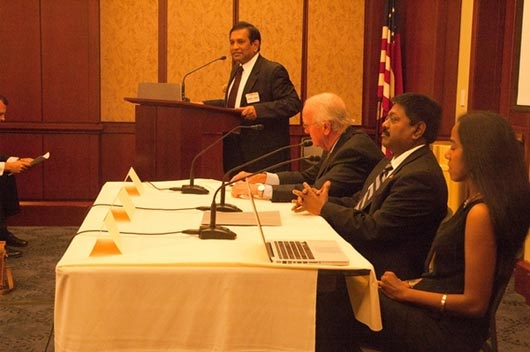 Latest Headlines in Sri Lanka