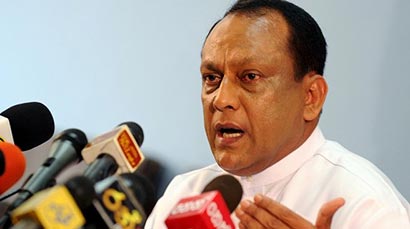 – Submitted by Walter Jayawardhana –
Days before a US-sponsored resolution will be taken up against Sri Lanka at the UN Human Rights Council, Colombo accused Washington of committing human rights abuses.
Cabinet Minister Lakshman Yapa Abeywardena Monday said that there were reports that the US had killed civilians during its military operations in Afghanistan.
He noted that most countries were overlooking such abuses and yet making allegations against countries like Sri Lanka.
"Despite all this, the Sri Lankan government will not be shaken by such allegations and will instead continue with its policies for the country," Abeywardena said.
The US-sponsored resolution was submitted before the UNHRC in Geneva last week after the document was initially circulated among Council members.
The draft resolution, "Promoting Reconciliation and Accountability in Sri Lanka", is still open for amendments before it is discussed at the Council and debated on next week.
The resolution notes the UN High Commissioner for Human Right's call for an independent and credible international probe into alleged violations of human rights law and international humanitarian law in Sri Lanka.
It also expressed concern at the alleged continuing reports of violations of human rights in Sri Lanka, including enforced disappearances, extra-judicial killings and torture.
Already countries such as the European Union, Canada and Britain have stated that they will vote against Sri Lanka when the final resolution is submitted. (Courtesy: The New Indian Express)