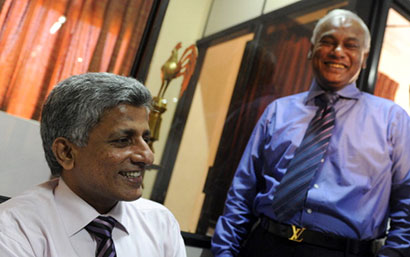 Sri Lanka Cricket President Upali Dharmadasa(R) with Secretary Nishantha Ranatunga(L)
Following in the footsteps of South Africa, Sri Lankan cricket officials have ceded to the Board of Control for Cricket in India-led plans to revamp International Cricket Council's governance and revenue share structure.
Sri Lanka, along with South Africa and Pakistan, had vehemently opposed the recently drafted 'Position Paper' which handed almost sole control of the ICC to the 'Big Three' of India, Australia and England.
But Sri Lanka's officials have now seen the financial benefits that the revamped structure brings and have agreed to the changes in relation to administration, future tours and of course, finance.
Pakistan have now been left as the only board opposed to the new ICC structure. The Pakistan Cricket Board continue to raise objections to the remodelling despite many clauses from the originally proposed draft being changed. Although the cricket boards of India, Australia and England will take a major share of the ICC's earnings, other Test-playing full members as well as Associate members also stand to gain appreciably.
The Sri Lanka Cricket(SLC) Board's executive committee unanimously agreed to support the revamp plans on Monday in Colombo.
"The Executive Committee met today (Monday) at SLC headquarters to converse regarding the revised resolutions forwarded by the ICC at the ICC Board meeting held on February 8 in Singapore," the Board said. "Subsequent to the committee members assessing the revised resolutions in detail, all members were satisfied with the amendments made in the areas of governance and competition models and thus unanimously decided to support the paper."
SLC secretary Nishantha Ranatunga said: "We need to understand the importance of having tours with India, England and Australia," adding that Sri Lanka stood to make $60 million from bilateral tours in the next seven years. Almost half of the USD 60 million will come from one Indian tour for one month($28m) with an England tour bringing in $12m and an Australian tour making SLC richer by $7-8m.
"When you calculate, a series with these three countries will bring us a revenue of $47-48m. If we are going to object to their proposals our cricket is going to suffer," Ranatunga said. "People who talk about principles and all that will not give us the money. We have to make our money from these tours. When any other country comes for a full tour we bear the same cost to host them but the returns are very small compared to the other three countries."
With the Pakistan Cricket Board(PCB) taking huge financial losses as a result of no cricket being played in the country since the terror attack on the Sri Lankan team in Lahore in 2009, it remains to be seen whether the PCB will carry on in their opposition of the new ICC model or fold owing to financial reasons.
(Source : Sportskeeda.com)