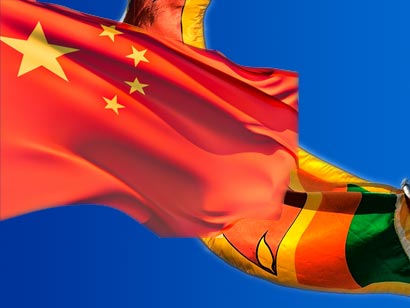 Sri Lanka signed two multi-million dollar contracts with Chinese firms for a port upgrade project on Thursday in the middle of a political hiatus that has raised doubts over the legitimacy of the government and the legality of the deals.
The debt-saddled island has long been a target of Beijing's ambitious Belt and Road infrastructure scheme to connect China with countries cross Asia and beyond, while regional power India has also been vying for deals to counter China's influence.
But a political crisis triggered by President Maithripala Sirisena's replacement of Prime Minister Ranil Wickremesinghe with Mahinda Rajapaksa, who was in turn sacked by parliament, has raised doubts over who can legitimately make decisions in the country.
Foreign countries have yet to recognize the new government and Wickremesinghe's party has said any decisions by Rajapaksa's cabinet are illegal.
An official at the state-run Sri Lanka Ports Authority told Reuters it signed two contracts with Chinese firms worth over $50 million on Thursday after the deals were approved by Rajapaksa's disputed cabinet last week.
One of Rajapaksa's cabinet ministers, speaking on condition of anonymity, also confirmed the deals had been approved by the cabinet, while documents seen by Reuters showed the deals were set to be rubber-stamped at the meeting.
The contracts are a $32 million project to enhance the deep berth capacity of state-run Jaya Container Terminal (JCT) in Colombo with China Harbour Engineering Company, and another one worth $25.7 million for the purchase of three cranes from JCT Shanghai Zhenhua Heavy Industries Co. Ltd for the same project., according to the ports authority official.
Asked about the deals, the former cabinet spokesperson under Wickremesinghe's government, Rajitha Senaratne, told Reuters:
"We will have to re-examine definitely. They don't have the legal power to decide."
The ports authority official said the tenders for the deals had been advertised in state-owned newspapers, as is the norm in Sri Lanka, and that they were sent to a cabinet-appointment procurement panel months ago.
India, which accounts for around 80 percent of Colombo's trans-shipment business, has raised concerns over increasing Chinese projects in Colombo.
New Delhi had been pushing Sri Lanka for the award of an estimated $1 billion contract for a second foreign-operated container terminal in Colombo.
But that deal was the subject of an argument between Sirisena and Wickremesinghe just before his ouster, in which Sirisena reportedly said the country couldn't give any more of its assets to foreigners.
The political instability and economic malaise have raised questions over Sri Lanka's ability to service large external debt taken to finance reconstruction following the end the civil war in 2009. It owes around $8 billion to China, including state linked firms and banks, official data shows.
(Reuters)