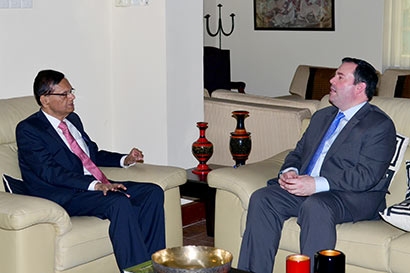 Canada's Minister for Citizenship, Immigration and Multiculturalism Jason Kenney called on External Affairs Minister Prof G.L. Pieris yesterday. It was noted that a ministerial level visit from Canada was taking place after three years and the two ministers welcomed the opportunity for a candid exchange of views on a range of bilateral issues.
The two Ministers discussed ways of addressing the challenges posed by illegal migration. The Canadian Minister briefed on new stringent measures introduced by Canada including new legislation aimed at curbing illegal migration. Minister Pieris assured the visiting Canadian Minister of Sri Lanka's fullest cooperation to tackle human smuggling operations.
Minister Pieris briefed on the positive progress achieved with regard to post conflict development and reconciliation efforts. In this context Minister Pieris pointed to the need to give Sri Lanka the time and space to address the post conflict issues, given the complexity of the domestic process including the need for wide consultations with political parties on the issue of devolution. Minister Pieris also extended an invitation to the Canadian Foreign Minister to visit Sri Lanka and see for himself the positive progress that has been achieved on the ground which is at variance with the information being disseminated by interested parties. The two Ministers agreed also on the need for closer cooperation to increase bilateral trade, investment and tourism and the need for frequent exchange of high level visits.
Minister Kenney pointed out that the Canadian Government's proscription of the LTTE in 2006 had a direct impact in his view in curbing the flow of funds for terrorism in Sri Lanka. He said the Canadian Government has continued to take stringent action against LTTE activists operating on their soil and assured of their continued cooperation in this regard. As the country with the largest Sri Lankan diaspora community he said Canada was eager to see rapid progress in Sri Lanka on all fronts. Prof. Peiris also briefed the Canadian Minister regarding the arrangements for the Commonwealth Summit in Sri Lanka in November this year.
Ministry of External Affairs
Colombo