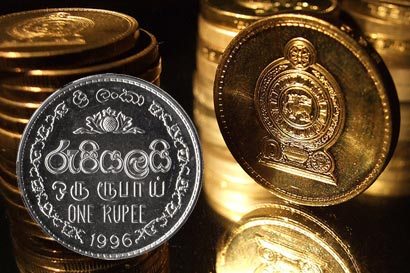 The Sri Lankan rupee market came to a standstill on Tuesday as banks stopped quoting spot prices against U.S. dollar, after what dealers said was a request from the central to stop trading the ailing currency beyond the 133 level.
"The whole market is distorted as central bank does not like to see the spot trading above 133.00. So nobody is quoting spot and everybody quotes spot-next," a dealer said on condition of anonymity, referring to the possible spot rate a day later.
Four other currency dealers confirmed the move and said there were no deals done in the market during the first two hours of the day.
The rupee's spot-next traded at 133.70/134.20 by 0500 GMT per dollar, dealers said.
Though many banks stopped quoting spot prices in the early trade on Monday, a state bank dollar sale at 132.90 provided direction to the market and some banks traded spot at that rate.
Banks stopped quoting spot rates on Monday after the monetary authority had told the dealers not to trade above 133.00.
Central Bank Governor Ajith Nivard Cabraal declined to comment.
The rupee hit a record low of 133.60 on June 12. It has lost some 17 percent of its value since last November.
Reuters