SRI LANKA: Election fears rise on increased violence
Posted by Editor on January 21, 2010 - 2:38 am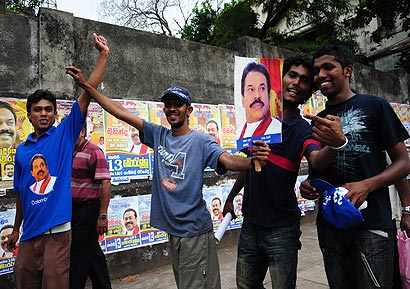 Photo: Amantha Perera/IRIN
(IRIN) – Concerns are rising that Sri Lanka's presidential election will be undermined after the deaths of four people in a spate of campaign-related violence in the past week, say election monitors.
The incumbent, President Mahinda Rajapaksa, is facing an unexpectedly strong challenge from his former army chief, Sarath Fonseka, raising tensions among supporters of both men ahead of the 26 January poll.
Election monitors warn that if clashes between rival political factions are not stemmed, violence could be a key factor in the first national election to be held after the end of the 26-year civil war last May.
"The slide towards more violence is really bad," Keerthi Thenakoon, the executive director of Campaign for Free and Fair Elections (CaFFE), a national election monitoring body, told IRIN.
"Ordinary people don't want to get hurt casting a vote. They would think, 'Why should I get killed?' and if thousands begin to feel like that, their choice will not be reflected in the final result," said Thenakoon.
Three of the four killings took place in the district of Kurunegala, northwest of Colombo, within 72 hours.
A Rajapaksa supporter was killed and four others injured in a grenade attack on 18 January. A day earlier, a Fonseka supporter died after being assaulted with clubs, while on 16 January, a Rajapaksa supporter was killed in a shooting incident.
Early last week, a 60-year-old woman died after she was injured during gunfire while in a bus to attend a campaign rally for Fonseka near Hungama, a town about 220km south of Colombo.
Other clashes have been reported around the country, leaving dozens injured.
"The number of incidents is on the rise and the nature of the incidents is turning more violent," said Thenakoon.
The monitoring body last week released a report that claimed irregularities during postal voting between 12 and 13 January, such as voter impersonation and illegal campaigning, which it said did not bode well for election day.
Police inaction alleged
The government has condemned the election violence and vowed to take speedy action against the perpetrators.
"The government will not allow anything to undermine this historic election, the first since the end of a quarter of a century of organized terrorism in Sri Lanka," it said in a 15 January statement posted on its website.
However, election monitors say little has been done to control the poll-related violence.
DM Dissanayake, the national coordinator for the Centre for Monitoring Election Violence (CMEV), another independent body, alleged that police were inclined to record election-related complaints as minor incidents.
"There is also an apparent trend that investigations have not progressed quickly enough," he told IRIN.
Officials with the People's Action for Free and Fair Elections (PAFFREL), the country's foremost election monitoring body, supported the assessment.
"There has been no sign that any concrete action has been taken either by the political parties or the authorities [to buck rising violence], which is not a good indication," Rohana Hettearchchi, PAFFREL's executive director, told IRIN.
International concern
"We would like to see Sri Lankans take hold of this historic moment and be active in the democratic process," the US ambassador to Sri Lanka, Patricia Butenis, said in a 17 January posting on the mission's blog.
"What's most important is that Sri Lankans can do all of this without the risk of violence, intimidation or retribution," she said.
Meanwhile, government efforts to resettle about 80,000 internally displaced persons from camps in the north before a self-imposed deadline at end-January continue, as part of its efforts to restore normality to the island nation.
Latest Headlines in Sri Lanka