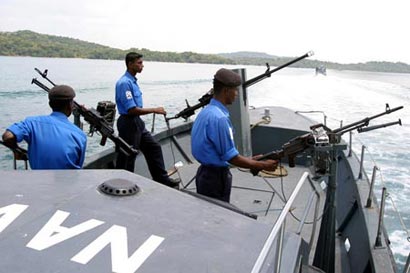 Sri Lanka's navy intercepted a boat carrying 30 Rohingya refugees who had been living in India and two suspected Indian traffickers after they tried to enter the country illegally, police said on Monday.
The island nation's navy and coastguard stopped the boat and its human cargo, which included 16 children, off Sri Lanka's northern shores on Sunday, police spokesman Priyantha Jayakody said.
"The 32 people were produced before the magistrate on Monday and remanded them till May 2," he told Reuters. "They have lived in India for more than five years.
A local human rights official who met the Myanmar refugees said their planned final destination had been Australia, which lies more than 4,200 miles (6,760 km) from Sri Lanka.
"They said they got refugee status in New Delhi after coming to India five years back, via Bangladesh. They are from six families," the official said, asking not to be named.
Tens of thousands Muslim Rohingya have fled mostly Buddhist Myanmar since 2012. Refugees, residents and human rights groups say Myanmar forces have committed summary executions, raped women and burned homes.
More than 1 million Rohingya live in apartheid-like conditions in Myanmar's Rakhine State, where many in the Buddhist majority consider them interlopers from Bangladesh.
About 69,000 Rohingyas have fled to Bangladesh since October, straining relations between the two neighbors who each see the stateless Muslim minority as the other nation's problem.
(Reuters)