Sri Lanka is 'at peace'-Tony Abbott
Posted by Editor on July 3, 2014 - 11:34 am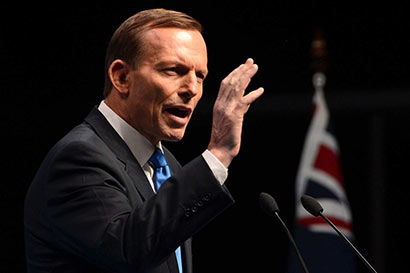 Tony Abbott refused to answer questions over the fate of two boatloads of asylum seekers on Thursday but said: "I want to make this observation, Sri Lanka is not everyone's idea of an ideal society, but it is at peace."
Speaking to radio 3AW in Melbourne, the prime minister refused to confirm reports that asylum seekers on board two boats have in recent days had their claims for protection assessed in a rapid interview process while on Australian customs ships. One of the boats is reported to have had 153 Tamils on board, including children.
He also refused to confirm if the boats had been turned back or if the asylum seekers on board were being handed over to Sri Lankan authorities at sea, as has been alleged in some reports. But he said that since the new Australian government was installed, "It's no secret that some boats have been turned around."
Abbott was not asked specifically about whether the two boatloads of asylum seekers were being returned to Sri Lanka, but his comments about the country are the strongest official indication yet that the government is returning Sri Lankan asylum seekers before allowing them to arrive in Australia.
He went on to argue that turning boats around, returning asylum seekers to Sri Lanka and the rapid on-board screening process were all "in accordance with the international law".
But numerous human rights groups and the UN have warned that turnbacks and the policy of rapid screening of asylum seekers from Sri Lanka is at odds with Australia's obligations under the refugee convention.
The Greens immigration spokeswoman, Sarah Hanson-Young, said Abbott's comments were "shocking". Returning Sri Lankan asylum seekers in this manner would be in "clear contravention of our international obligations and the law", she said.
"Mr Abbott cannot continue to fly in the face of the law, we have an obligation to provide people with protection, not hand them back to the very people they are fleeing," Hanson-Young said.
On Wednesday Guardian Australia revealed that the immigration department had previously considered using customs vessels as "motherships" to carry out on-water screenings of asylum seekers but had received legal advice the process could be unlawful.
Another source with knowledge of the policy said on Thursday the department had been warned in 2012 that returning asylum seekers on Australian vessels brought serious security risks.
"You could be creating a massive problem for yourselves in terms of a riot at sea or non-compliance or non-violent confrontations [the department was told]," the source said.
Speculation that asylum seekers would be directly handed to the Sri Lankan navy has been rife all week, but officials have refused to comment.
With confusion mounting on all sides, both the Sri Lankan high commissioner to Australia and a spokesman for the Sri Lankan navy told Guardian Australia the country had not been notified about either boat.
The boat carrying 153 Tamil asylum seekers left Pondicherry in Tamil Nadu, southern India, on 13 June and contacted refugee advocates and journalists last Friday. It has not been heard from since Saturday and is understood to have been intercepted by Australian customs.
Another, carrying 50 asylum seekers, is also understood to have been intercepted by customs near the Cocos Islands.
On Thursday Fairfax Media reported that Indian authorities had said the boat carrying 153 asylum seekers was being captained by a former member of the Tamil Tigers, who had a history in the navy. He had picked up more passengers from Sri Lanka and then headed to Australia, the report said.
The ABC reported that families of those on board this boat had expressed concerns about their safety from India.
On Thursday Labor's immigration spokesman, Richard Marles, again called on the the immigration minister, Scott Morrison, to brief the public on the handling of both boats.
"The immigration minister must explain to Australians what the status of the people on the reported vessels are, including women and children, and what steps have been taken to safeguard their wellbeing," Marles said.
"Citing operational reasons as a way to avoid scrutiny is a farce."
Marles said he believed those aboard both boats should be processed offshore. (The Guardian)
Latest Headlines in Sri Lanka