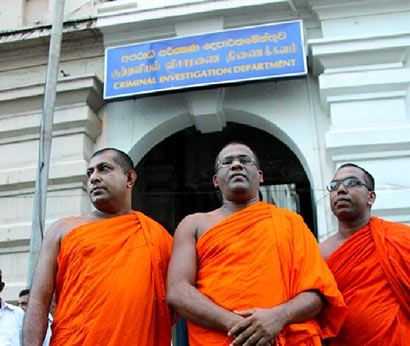 General Secretary of the Bodu Bala Sena (BBS) Ven. Galabodaatta Gnanasara yesterday alleged that SLMC could be behind religious violence.
Ven. Gnanasara was addressing the media outside the Criminal Investigation Department (CID) last evening after making statement to the police as regards allegations that the BBS was responsible for the recent religious strife at Alutgama and Beruwela.
Police headquarters said that Ven. Gnanasara Thera had been questioned by the CID in the wake of allegations directed at his organisation over recent violence.
The monk arrived at the CID several hours after tri services as well as Defence Ministry spokesman, Brigadier Ruwan Wanigasooriya denied reports of a special relationship between the Defence Ministry and Ven. Gnanasara Thera.
Responding to Ven. Gnanasara's latest allegations, a spokesman for the SLMC said that several political parties as well as civil society organisations had publicly accused the BBS of causing Alutgama chaos.
(The Island)