Sri Lanka landslide buries three villages; death toll unknown
Posted by Editor on May 18, 2016 - 6:37 am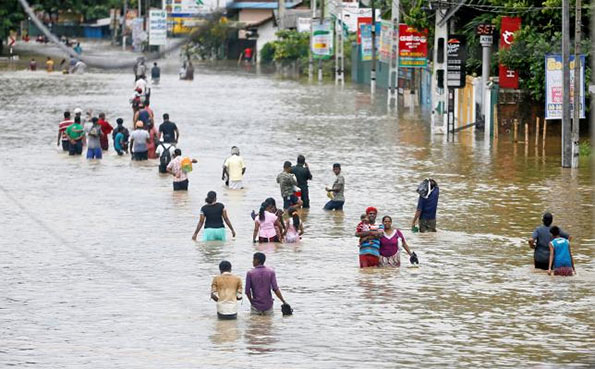 A landslide in Sri Lanka, triggered by more than three days of rain, buried three villages in a central district and the death toll is yet to be determined, government officials and area residents said on Tuesday.
Torrential rains have forced more than 137,000 people from their homes so far and killed at least 11.
Rohan Dias, a deputy police inspector, said rescue operations at the villages in the central district of Kegalle was continuing in the night.
"There were about 150 families in those villages and we don't know how many survived," Dias told Reuters.
"There are about 800 people gathered in the nearby temples including the people from the neighboring villages fearing their villages could also be affected. There are another 400 people in the roads who have come to see their relatives."
W.M. Abeywickrema, Kegalle district secretary, told a local private channel that around 400 people had been rescued so far.
"I saw a whole rock came down and buried many houses. There are people inside," one middle-aged woman told the channel.
Military Spokesman Jayanath Jayaweera said 174 service personnel and 8 army officers had been deployed to the rescue area in Aranayaka in Kegalle district.
Troops also have launched rescue operations in inundated areas of the Indian Ocean island, with boats and helicopters pulling more than 200 people trapped in the northwestern coastal district of Puttalam to safety, officials said.
"This is the worst torrential rain we have seen since 2010," said Pradeep Kodippili, a spokesman for the disaster management center. Nineteen of Sri Lanka's 25 districts have been hit.
Heavy rains have also struck the neighboring Indian states of Tamil Nadu and Kerala. More than 100 houses were damaged in coastal Kerala and about 50 families had been shifted to a relief camp in the state capital, Thiruvananthapuram, a state official said.
The weather department has forecast heavy rains across Tamil Nadu over the next two days and warned fishermen not to go out to sea.
Flooded roads and fallen trees led to traffic jams in the Sri Lankan capital, Colombo. Trains were halted as water submerged railway tracks, officials said.
Flooding and drought are cyclical in Sri Lanka, which is battered by a southern monsoon between May and September, while a northeastern monsoon runs from December to February.
(Reuters / Pix by Dinuka Liyanawatte)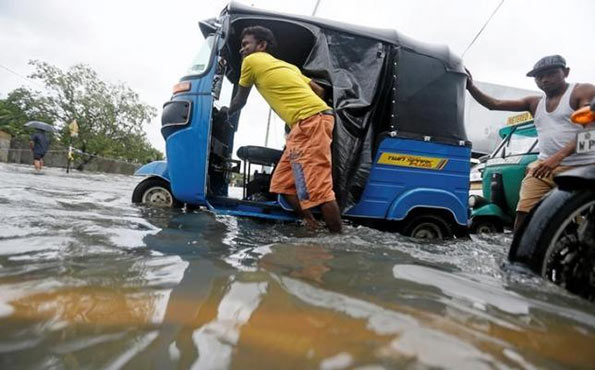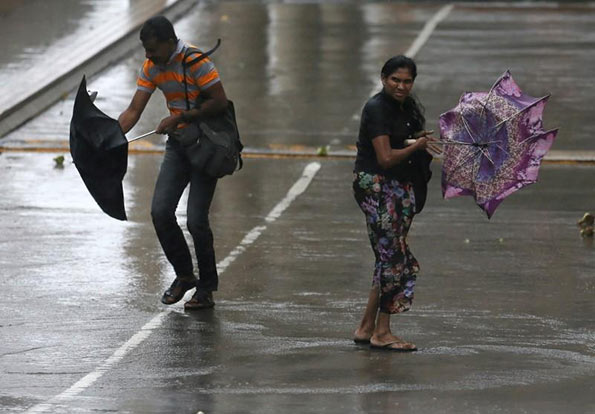 Latest Headlines in Sri Lanka