Sri Lanka offers more hope while many regions face difficult challenges – King of Norway
Posted by Editor on January 3, 2016 - 12:46 pm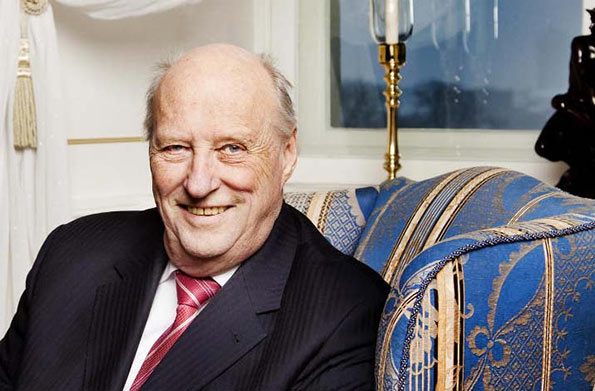 The positive developments in Sri Lanka offers more hope while many regions were facing difficult challenges at present, said the King of Norway Harald V.
He made this observation when Sri Lanka's Ambassador to the Kingdom of Norway, Musthafa M. Jaffeer, on completion of his tenure as Ambassador to the Kingdom, recently paid a farewell call on King Harald.
During this meeting, the Ambassador briefed His Majeralsty on the new policies and direction being adopted by the government under Maithripala Sirisena, President of Sri Lanka and, in particular, to reinvigorate the relations with countries that Sri Lanka had once difficult relations over a number of issues.
In this respect, Ambassador Jaffeer expressed his happiness over the positive shift taking place in the bilateral relations between Norway and Sri Lanka, since early this year. The Ambassador contended that new developments in the relations, had opened up opportunities to further strengthen cooperation in the economic, trade, tourism and education sectors between the two countries. His Majesty King Harald, responded by stating, that while many regions were facing difficult challenges at present, the positive developments in Sri Lanka offers more hope. The King further opined that both countries should strive to work closely to forge further cooperation for the benefit of their people.
In addition to the King of Norway, Ambassador Jaffeer, also met Thommessen Olemic, the President of the Norwegian Parliament. At this meeting, he handed over a letter from Karu Jayasuriya, Speaker of the Parliament to his counterpart extending an invitation for him to visit Sri Lanka with a Parliamentary delegation. Olmeic, while thanking the Ambassador for the Speaker's invitation, said that the Parliament's Foreign Relations Committee would give its consideration to Sri Lanka's invitation to undertake the visit at a later date.
Ambassador Jaffeer was also hosted for farewell events by Sri Lanka Expat Associations in Norway, including the Sri Lankan Association of Norway, Sri Lanka Friends Association of Norway and the Tisarana Sri Lanka Buddhist Association. A special ceremony was also arranged for the Ambassador at the Durga Kanapathi Temple. While acknowledging the remarkable contribution made by Sri Lankan societies in Norway for linking both peoples through several cultural and social initiatives, the Ambassador called on the Sri Lanka Associations and its members to work hard for promoting reconciliation among Sri Lankans so as to fully realize the dividends of peace in the country.
Ambassador Jaffeer contended that the number of Sri Lankan community members, including diaspora seeking the Embassy's assistance for consular, investment and tourism purposes has considerably increased over the last few years, a sure sign of trust and confidence placed on the developments taking place in Sri Lanka.
(Government News Portal)
Latest Headlines in Sri Lanka