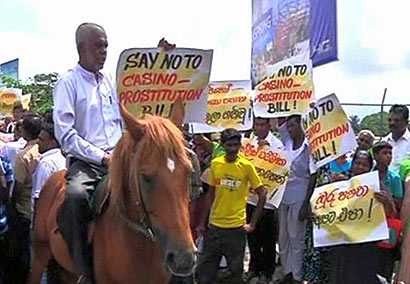 Hundreds of Sri Lankan opposition party members held a protest march in Colombo on Thursday, calling on the government to stop Australian gambling tycoon James Packer from opening casinos in hotel projects planned by his Crown Resorts group.
The protest was held as parliament began debating whether to approve Crown's $400 million mixed-development project and two similar schemes, together worth more than $1.3 billion.
President Mahinda Rajapaksa's coalition government holds a two-thirds majority in parliament, but its stance on casinos has drawn criticism from Buddhist and other religious leaders, opposition parties and even from within its own ranks.
Stung by the criticism, the government amended late gazette notifications on Crown's three projects late last year and deleted the word "gaming".
Currently, there are only a few, mostly small-scale, casinos in Sri Lanka run by local businessmen.
Packer, one of Australia's richest men, first obtained cabinet approval for Crown's projects in September, but the terms were altered and it has been dogged by delays.
While the government has said it will not allow casinos in Crown's proposed hotel projects, opponents suspect that it is little more than double-talk as the government had earlier proposed designating an exclusive gaming zone in the capital.
The president was quoted by local media on Thursday as saying that "new hotel projects will not have any casinos".
However, his brother and economic development minister Basil Rajapaksa told parliament during the debate that "there won't any tax concessions for casinos through this order (under gazette)".
Members of the opposition United National Party (UNP) chanted "say no to casino-prostitution bill" at the site of the proposed hotel project Crown is building with local partner, Rank Entertainment Holdings.
Opponents of casinos believe they will lead to a boom in prostitution and damage religious values and culture in the mainly Buddhist island nation.
The protest march ended with a sit-in outside Bally's Casino, owned by a Sri Lankan entrepreneur who also has multimillion-dollar expansion plans.
"If the government is saying casinos are not allowed for these projects, why can't government include that clearly and mention in the gazette that these projects will not be permitted to operate casinos?" Harsha de Silva, a UNP legislator, told reporters at the protest.
Government officials say that while the policy is not to issue new casino licences, existing approvals will be accepted. Officials have told Reuters that two Sri Lankan entrepreneurs have five casino approvals among them. Packer's Sri Lankan partner Ravi Wijeratne owns two and Bally's owner Dhammika Perera owns three, they have said.
Later on Thursday parliament approved Perera's project, with 113 votes for and 42 against in a 225-member legislature. Others either abstained or did not attend parliament on Thursday.
Perera would use one of his licences for Queensbury, a $300 million resort near Packer's planned complex, and Sri Lanka's top conglomerate John Keells Holdings has committed up to $850 million for the Water Front mixed-development project, which will also includes a casino.
Packer's Crown and Keells' Water Front mixed-development projects are scheduled for parliament voting on Friday.
(Reuters)