Coach's departure leaves us with big challenge – Jayasuriya
Posted by Editor on April 25, 2014 - 8:23 am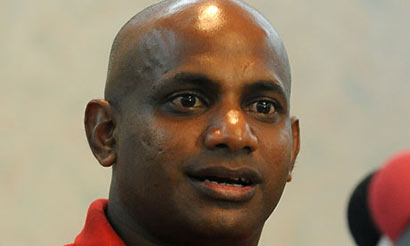 Revealing what he says 'the biggest challenge' which Sri Lanka Cricket (SLC) faces after the unexpected departure of national coach Paul Farbrace, Sri Lanka selection committee chairman Sanath Jayasuriya said yesterday that "we need a lot of effort to come out of this situation as he (Farbrace) knows our team inside out." Jayasuriya said so as he met the media, along with his fellow selection committee members Pramodya Wickramasinghe, Chaminda Mendis and Eric Upashantha, at the SLC headquarters in Colombo.
Farbrace left unexpectedly to take up post as England Assistant Coach, just a fortnight before the forthcoming England tour of Sri Lanka, carrying with him vital information, which Sanath says, pertaining to the team's preparation for one of the most significant assignments of the national team this year, a Test and One-day series against England in England.
"This is a big question. We've been put in a desperate situation by his sudden departure. Farbrace knows our team inside out. Now we need a lot of effort to come out of this situation", Jayasuriya said answering a question.
Marvan, likely replacement for Farbrace?
Jayasuriya hinted that Marvan Atapattu, the present batting coach of the Sri Lanka team, would fill the place created by the Englishman saying he needed to talk to Atapattu personally "on certain things" after the SLC meeting held on Thursday morning on the appointment of a new coach.
"Still you can't announce (that Atapattu will be the next coach). I need to talk with him on certain things before the England tour", he added.
Meanwhile Hirantha Perera said Farbrace left while he was on probation of six months under SLC after leaving the English country Yorkshire.
Chandimal succumbed to captaincy pressure
Meanwhile elaborating in length over his committee's decision to rid young Dinesh Chandimal of captaincy responsibility in T20 cricket, before the forthcoming Ireland and England tour, while offering the position to Lasith Malinga until 2015, former Sri Lanka skipper Jayasuriya said Chandimal could not come out of pressure of being captain.
"We thought of getting the maximum from him nurturing him as a future captain. But he didn't come out of the pressure of being the captain. We gave our fullest support. We think he needs to be concentrating only on his batting for some time," he explained.
"Lahiru Thirimanne is a different player. He bats anywhere in the order and is good in all three formats. He can adjust to any situation," Jayasuriya further explained justifying their decision to replace Thirimanne as the national vice-captain of Test, ODI and T20 teams.
Sanath, a present MP from Matara district, lauded SLC's move to play a lot of 'A' team cricket in the recent past which enabled the national selectors to seek replacements, like Chathuranga de Silva and a lot more, for the national team whenever they needed.
(Courtesy: The Island)
Latest Headlines in Sri Lanka