Sri Lanka parliament commences impeachment debate on top judge today
Posted by Editor on January 10, 2013 - 2:51 pm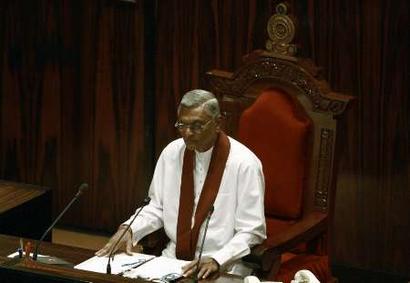 Sri Lanka parliament will commence the two day debate on  the impeachment motion against the country's first female Chief Justice Dr. Shirani Bandaranayake Thursday.
Speaker Chamal Rajapaksa is expected to  make a special statement  regarding the Court of Appeal determination on the Supreme Court interpretation on the impeachment motion probed by the Parliamentary Select Committee (PSC) which found the Chief Justice guilty of three out of five charges it investigated.
Government spokesman Media minister Keheliya Rambukwella had said that the official position on the Court of Appeal determination will be made known by the Speaker in the parliament. "Even on the previous court ruling the speaker of parliament had his own stance so let's wait for his(Speakers) ruling" Media minister told the journalist at the last week post cabinet media briefing.
The debate on the impeachment motion will be on January 10 and 11 and the vote will be taken on Friday evening. The main opposition United National Party has announced it would take part in the debate while the Marxist party opted to be out of it.
The Court of Appeal reading the Supreme Court's interpretation of the Constitution ruled last week that the PSC has no legal power or authority to find a judge guilty since the Standing Order 78A under which the committee is appointed is not law.
However, the Chairman of the PSC that probed the charges, Minister Anura Priyadarshana Yapa pointed out that the Constitution has recognized that upon submission of a resolution to impeach an appointed judge  signed by not less than one-third of the total number of Members of Parliament, allows the parliament by law or by a Standing Order to appoint a special committee to investigate the allegations.
Following the parliamentary debate, if it is passed with a simple majority, the Speaker will advise the President of the parliament's decision on the Chief Justice and the President will take an appropriate action based on the parliamentary decision.
According to Sri Lanka's Constitution Article 107 (3) a top judge "shall not be removed except by an order of the President made after an address of Parliament supported by a majority of the total number of Members of Parliament has been presented to the President for such removal on the ground of proved misbehavior or incapacity."
A group of 117 Government MPs, which constitute more than the required numbers of 113 votes to pass the resolution, signed the impeachment motion against the Chief Justice under the relevant provision in the Constitution and Standing Orders of Parliament.
Source: Government News Portal
Latest Headlines in Sri Lanka