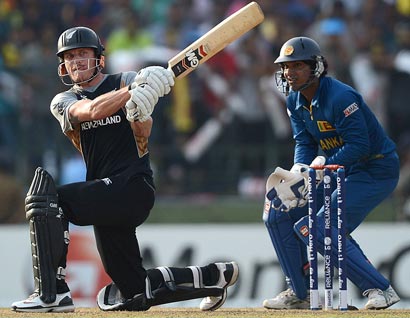 New Zealand 174 for 6 (Nicol 58, Guptill 38) tied with Sri Lanka 174 for 6 (Dilshan 76, Jayawardene 44)
Sri Lanka won the Super Over
Tillakaratne Dilshan, who had scored 76 off 53 in regulation time, set himself under the ball at long-off, turning side ways to make sure he knew where the boundary cushions were – they were six inches from his toenails – and took the catch after the ball had passed his body, and had almost entered the air space past the boundary. Had Dilshan missed that, this Martin Guptill hit off Lasith Malinga would have left New Zealand needing two off the last ball of the Super Over. The catch sealed it. So small were the margins in a freak match.
Malinga, though, finally came good in the Super Over, bowling full and straight, defending 13 and trumping a super effort from Tim Southee, whose two last overs, 18th and 20th in regulation time, turned what looked like an easy Sri Lankan chase into a tie.
Full report to follow…
New Zealand 174 for 6 (Nicol 58, Guptill 38) v Sri Lanka
They might not have had the panache of Sherlock Holmes, but New Zealand made their way through the Sri Lankan mystery all right. Rob Nicol, who wouldn't have looked out of place at all in Godfather, used some muscle to score 58 off 40 and consign Ajantha Mendis to his worst Twenty20 international figures, 1 for 48, a match after he had registered his best. The other mystery bowler, Akila Dananjaya, a net bowler three months ago, bowled his confusing all sorts to exercise some control, but even he had a straight hit him smack in the face. He continued with his spell, though, and ended with a respectable 2 for 32.
Misfields and overthrows overshadowed Sri Lanka's mystery at the start of the innings, and Martin Guptill and Nicol got New Zealand off to a good start. The hitting, though only started after two overs that went for just four. From the third onwards, both the openers started hitting, and hitting straight. Two shots stood out, Nicol picking a Lasith Mainga slower one and chipping it over short fine, and Guptill charging down and flat-batting a Malinga short ball over mid-off. The second hit took them to 41 after 5.4 overs, and soon Mahela Jayawardene had to go to spin.
Dananjaya's action and run-up is riddle wrapped in mystery, but what the ball does after leaving his hand not as much. He seems like a legspinner running in, but ends up bowling a mix of jerky offbreaks, legbreaks and googlies. It all got off to a fairytale start with a wicket third ball as Guptill lofted a half-volley to long-off. The other mystery man, Ajantha, was having a bad day at the other end with his first two overs of long hops.
By the time Dananjaya came for his third over, he had had a full toss hit for a six, and the next ball he bowled came right back at his face even before he could get his hands up. Good sportsmanship followed as Nicol and birthday boy Brendon McCullum didn't run off the ricochet. McCullum didn't show any such consideration to his next full toss, and took the second six off him.
McCullum picked out a deep man with a sweep to get out for 25 off 15, but Nicol was not about to miss with his sweeps. Three of them sent Ajantha over midwicket in his last over, and the rattled bowler also conceded five wides to double his tally in his last over. Dananjaya finally got Nicol on the slog-sweep, but Sri Lanka were well and truly on the repair mission by now. Malinga and Nuwan Kulasekara managed that in part, but 33 in the last four overs – thanks largely to the Kulasekara slower ball that got rid of Ross Taylor – were enough to take New Zealand to their highest Twenty20 total against Sri Lanka.
ESPN Cric Info