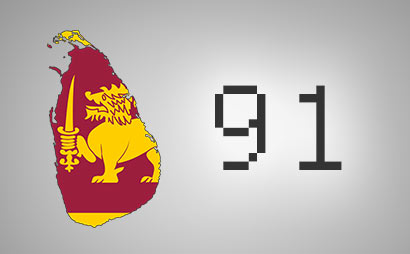 Sri Lanka ranked 91st place on Transparency International's corruption perception index for 2013, according to a report released on Tuesday.
Sri Lanka got a score of 37. Denmark and New Zealand are together the least corrupt countries out of the 177 surveyed by the anti-corruption watchdog.
On a scale of zero to 100, where zero is highly corrupt and 100 is clean, India ranked 94th on the index and got a score of 36.
The three most corrupt countries, tied on first place, are Afghanistan, North Korea and Somalia, according to the report.
The results of 2013 are not comparable to those of 2012 and 2011 because of change in methodology, Transparency International said in a statement.
The watchdog makes use of data sources that specialize in governance and business climate analysis to come to these conclusions. For India, it used 10 out of 13 data sources, including Bertelsmann Foundation, World Bank and World Economic Forum.
The organization then uses this data to measure perceptions of corruption in the public sector.
This allows it to make comparisons across countries, time and in terms of quantitative data.
Among South Asian countries, Bhutan is the least corrupt with a score of 63 and Bangladesh is the most corrupt with a score of 27.
(Courtesy: DM Online)