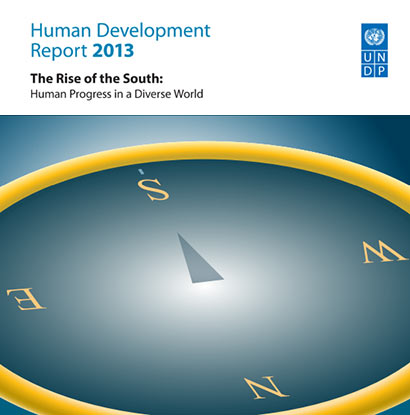 Sri Lanka has entered the 'high human development category' according to a report released yesterday by the United Nations Development Program (UNDP) on the human development of more than 40 countries.According to the Human Development Index (HDI) monitored annually by the Human Development Report (HDR),
The Human Development Report 2013 (HDR 2013) – "The Rise of the South: Human Progress in a Diverse World" published by the UNDP was launched in Sri Lanka yesterday as a collaborative effort of UNDP Sri Lanka and the Lakshman Kadirgamar Institute for International Relations and Strategic Studies (LKIIRSS) under the patronage of the Minister of External Affairs Prof. G. L. Peiris.The report analyses more than 40 developing countries that have made striking human development gains in recent years and attributes their achievements to some strong national commitments: better public health and education services, innovative poverty eradication pograms and strategic engagement with the world economy.  Sri Lanka has been ranked at the 92nd place among 186 countries.
Sri Lanka makes it to the high human development category with a HDI ranking of 0.715 against the global average of 0.694. The report says that Sri Lanka had high income growth as well as a notable reduction in HDI despite years of internal conflict.
Delivering the keynote address at the launch, Minister Peiris noting the importance of ensuring GDP growth accompanied by social equity said the growth must produce a tangible improvement in the lives of people. "We should also ensure that all people of the country can derive benefits from the GDP growth," Prof. Peiris said.
The Minister stressed the need to maintain the state intervention measures to achieve the targets highlighted in the report. He said it was necessary to ensure the rural population receives infrastructure and other facilities.The Minister also acknowledged that although there is no gender inequality in any field in Sri Lanka a big gender gap remains in politics and suggested that pragmatic compliance is required to increase participation.
UNDP Resident Representative in Sri Lanka Subinay Nandy, noted that the 2013 HDR highlighted the experiences of a new group of Southern countries that are experiencing rapid developmental progress. Nandy said Sri Lanka has made a tremendous progress in terms of infrastructure development in the North and East.
Source: Government News Portal