Sri Lanka rupee ends weaker on bond sales by foreigners
Posted by Editor on January 8, 2014 - 5:45 am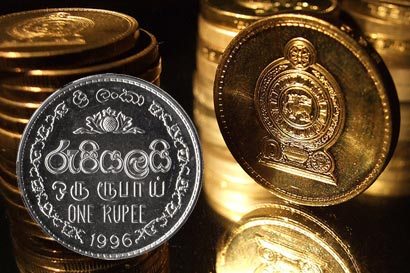 (Reuters) – The Sri Lankan rupee ended weaker on Tuesday due to dollar demand from importers and foreigners who sold rupee bonds, but dealers expect the currency to gain on an expected $1 billion inflow next week from a bond sale.
The spot rupee ended at 130.80/90 per dollar, weaker from Monday's close of 130.70/75.
A currency dealer said a one-off rupee bond sale by some foreign investors pulled the currency down.
Dealers said the rupee is under pressure to appreciate, but the level of appreciation would depend on what the central bank wants to do.
"If it (central bank) wants to keep the rupee at the current level and support exporters, then it would buy all the bond inflows," said a currency dealer on condition of anonymity.
A source close to the sovereign bond deal said the inflows are expected next week.
Sri Lanka priced a $1 billion, five-year sovereign bond at par to yield 6 percent, coming inside initial talk of 6.25 percent area and at the tight end of the final guidance of 6-6.125 percent.
Revealing its financial and monetary policies for 2014, the central bank said on Thursday it expected the rupee to strengthen in the medium term and the central bank's direct intervention in the foreign exchange market would be minimum.
The local currency has gained about 3.3 percent since it hit a record low of 135.20 on Aug. 28. It lost 2.5 percent in 2013.
Latest Headlines in Sri Lanka