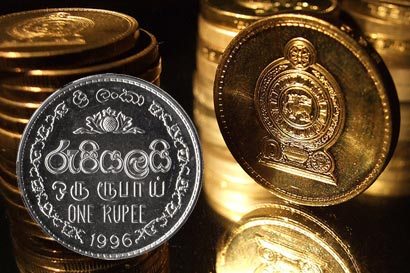 COLOMBO, April 4 (Reuters) – Sri Lanka's rupee gained 0.53 percent to 125.45/50 on Wednesday on exporter dollar sales as the island nation's treasury secretary said the currency has hit the bottom and was unlikely to weaken again beyond 125.
The disbursement of a long-delayed International Monetary Fund tranche on Tuesday also boosted sentiment, dealers said.
Dealers said the currency strengthened up to 125.00 during the day, from Tuesday's close of 126.00/30, but edged down slightly on late importer dollar demand.
The currency has risen 4.88 percent since hitting a record low of 131.60 on March 19, but overall has fallen 8.9 percent since the central bank stopped defending it on Feb. 9.
Treasury Secretary P.B. Jayasundera on Wednesday said Sri Lanka's central bank will have room to raise interest rates by at least another 50 basis points if April trade and inflation data show signs of stabilising.
Dealers said an expected 25 basis point rate hike at a Thursday central bank monetary policy meeting could ease off the depreciation pressure on the rupee.
The stock market slipped 0.29 percent or 15.74 points to 5,400.91 on Wednesday as investors remained cautious of possible interest rate hike, the direction of rupee and an expected fall in corporate profits.
Sri Lanka's President Mahinda Rajapaksa, who is also the finance minister, appointed Harendra Dissa Bandara, a finance professor, to the long-vacant post of director general the Securities and Exchange Commission, the regulator said on Wednesday.
"As long as the new director general doesn't over-regulate the market, there won't be any sentiment change," a senior stockbroker said on condition of anonymity.
The day's turnover was 1.13 billion Sri Lanka rupees ($8.96 million), slightly below this year's daily average of 1.35 billion. Foreign investors were net buyers of 241.4 million.
The Colombo bourse is one of the worst performers this year among Asian markets, with a 11.09 percent loss. ($1 = 126.1500 Sri Lanka rupees)
Source: Reuters