More positive changes in SL after April 8
Posted by Editor on April 6, 2012 - 6:14 am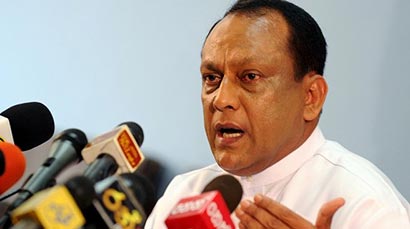 The third year of the United People's Freedom Alliance (UPFA) government led by President Mahinda Rajapaksa which commences from April 8 will bring more positive transformations to the country, Acting Media Minister and Acting Cabinet Spokesman Minister Lakshman Yapa Abeywardena said.
He said the UPFA government will complete two years in Parliament on April 8, 2012. In the present Parliament, the Sri Lanka Freedom Party (SLFP) has 118 seats and the UPFA has 162 seats which is a two thirds majority.
Addressing the weekly Cabinet press briefing at the Government Information Department auditorium yesterday, Acting Minister Lakshman Yapa said the past two years brought massive transformation to Sri Lanka, including the construction of highways, harbours, airports, agricultural development, total transformation of the North and East by developing infrastructure facilities and other giant development drives fulfilling the wishes of SLFP founder leaders like S W R D Bandaranaike and D A Rajapaksa.
The acting minister pointed out that Sri Lanka achieved all these goals while the Western world was facing a huge financial crisis and other countries were going through severe financial difficulties.
"Sri Lanka faced all challenges successfully and continued its massive development drive making a significant landmark in the country's history. Sri Lanka will continue to walk forward no matter what challenges are thrown at the country," he said.
When it comes to the LLRC Report recommendation implementation, the Sri Lankan government has one clear stand. That is not betraying the identity of the motherland. From the beginning the Sri Lankan government had its own strategy and road map to go for a solution from the the ethnic issue. Therefore ,it was not required anybody to tell the Sri Lankan government when , how and what should be done. External Affairs Minister Prof. G.L.Peiris has already clearly stated that the Parliament Select Committee comes first and after the rest can be taken care of.
The Sri Lankan government has not agreed to any conditions put forward by the IMF. There are only understandings. From the beginning, the Sri Lankan government follows the right track when it comes to economic development and only now some officials point that out. There is nothing wrong pointing it out. The government did not privatize even a single bank or any other state institution which shows whether it agreed to any conditions or not, the Acting Minister stressed.
Courtesy: Daily News
Latest Headlines in Sri Lanka