Sri Lanka the new chokers of world cricket
Posted by Editor on October 10, 2012 - 8:15 am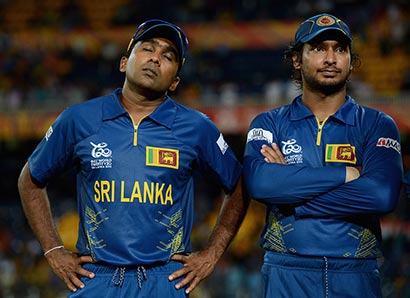 'Chokers' is a term that is commonly associated with South African cricket given the way they have messed things up in several big cricket events. But what Sri Lanka have done better than South Africa is to reach the finals of four big tournaments and stumble on all four occasions. Hence, they are the new chokers of world cricket.
Sunday's 36-run loss to West Indies was a bitter pill to swallow to the packed house of 35,000 spectators at R. Premadasa Stadium, who had seen time and again the team messing it up in the final game.
Sri Lanka's pervious three defeats include losses in the 2007 and 2011 World Cup finals and defeat in the 2009 World T-20. A confident Sri Lankan captain Mahela Jayawardene prior to the game felt that the three previous finals being played away from home and this one taking place in familiar conditions in front of our own spectators could make a difference. But it didn't.
To start with, Sri Lanka made several tactical blunders. Leaving out Rangana Herath was not only one of them, but an insult to a man who has played over 16 years of international cricket. His last game was the semi-final clash against Pakistan and he was the team's best bowler taking three wickets. Herath's omission is interpreted as Sri Lanka adopting a 'horses for courses' approach. On the same note, it has to be asked whether you leave out Lasith Malinga when it comes to clashes against India.
The final also proved that some thoughts were a myth. Malinga is no longer world's premier bowler in the shortest format of the game (perhaps in a different blue jersey, he still is.) This year alone he has failed to live up to expectations when it counted on several occasions. The once dreaded fast bowler has become 'an Indian teddy bear' called one of the premier cricketer writers in Sri Lanka prior to the tournament.
Malinga (or perhaps his agent) took the cricket fans of this country to a ride too. While other Sri Lankan fast bowlers were toiling against England in a Test series, Malinga was busy playing for Ambanis in the IPL and as criticism was growing for him turning his back on Sri Lankan cricket, in an interview with the Hindustan Times he told that he has been spending time with IPL working on a new delivery and that he will try it out during World T-20. Pity when Samuels was going all guns blazing, Malinga didn't try to stop him with his latest weapon!
The ICC announced its 'Team of the Tournament' a day after the finals. The team was picked by a panel of five and Mahela was the unanimous choice to lead the side. But during the finals, he lacked imagination, was too defensive, paid the price for repeatedly keeping faith on a struggling fast bowler and committed hara-kiri by playing an uncharacteristic reverse pull.
Sri Lankan fans couldn't believe how the team lost. In the first ten overs West Indies had crawled to 32 runs. After the 12th over they went berserk. Malinga was carted all over the park. Throughout the tournament he had fielded, bowled and even behaved as if he wasn't bothered. After the game against England, the only one where he did well, he even had the audacity to tell 'drop me if you can!'
It looked as if the Sri Lankan players were overwhelmed by the occasion. They were in a shell while batting and failed to come out of it. Very little was done as well to come out of it. Everyone just stuck to the tried and tested formula. Mind you this is an experienced side and repeatedly if the team is getting into these situations in big games, you need to look in as to why it happens frequently.
The way Thisara Perera was used throughout the tournament was strange. He hardly bowled and very rarely got an opportunity to showcase his batting prowess. While Thisara is the most improved Sri Lankan bowler in the last 12 months, he is the hardest striker of the cricket ball in the side and it's a pity that his skills weren't showcased in a world event. The possible reasons for talented young men like him being given the cold shoulder because the three seniors are too selfish and don't want to move from the top three batting positions or unless you are a 'Charlie's Angel,' it's extremely difficult for you to establish your place in the side.
The team management should have sent Thisara at least at the fall of Sangakkara's wicket in the final.
Kulasekara had bowled so well and you are at a loss for words why he was not bowled all four of his overs and Mahela repeatedly kept his faith on Malinga despite such a below par performance. In the end, Malinga's four overs went for 54 runs and eventually Sri Lanka had been left with too much to chase. Perhaps, the instructions from Perera Gardens were to protect Malinga at all costs!
It was fair enough that Mahela and co. informed the selectors about the captaincy switch and cleverly kept those at Maitland Place in the dark. But at the same breath it was a pity that they thought that Perera Gardens had to be kept informed of the developments. Questions need to be asked as to with whom their priorities are with?
Now that he is losing his aura, the board must look ways and means to rein in Lasith Malinga. Malinga's strength is his unusual style. But familiarity breeds contempt, isn't it? And it has been proven. The more he plays IPL and other T-20 leagues, the batsmen seem to have no problem with him. First the Indians smashed him all over the park; now West Indies are doing it. Wait and see, by next year it will be the Australians!
It's hard to fathom how SLC gave clearance to Malinga to play in the Big Bash T-20 League later this year at a time when the national cricket team will be undertaking a tough tour of Australia.
Treating players differently needs to stop. The Sri Lankan physiotherapist who declared Malinga not fit enough to play the longer version of the game was also contracted by the IPL. Subsequently, SLC didn't renew his contract. SLC needs to conduct medical tests of its own to find out the truth about Lasith Malinga's knees.
At the moment, country's cricket fans are made to believe what player agents want. Not the truth.
Courtesy: The Island
Latest Headlines in Sri Lanka