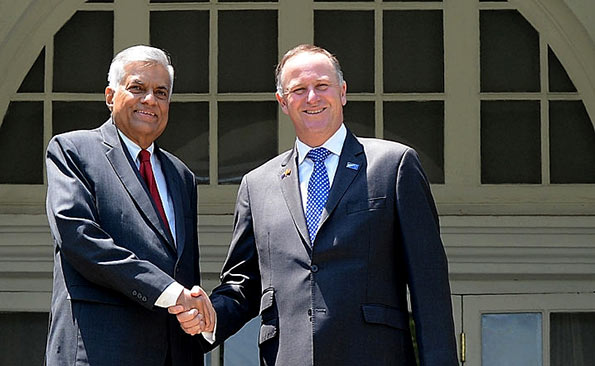 Sri Lanka would soon bring in a new anti-terrorism law, Prime Minster Ranil Wickremesinghe said yesterday.
Wickremesinghe was addressing a joint press briefing with New Zealand Premier John Key in Auckland where he is on a visit.
"We hope to be able to bring in the draft law soon," Wickremesinghe said.
The New Zealand Green Party and Amnesty International had raised concerns and drawn to the attention of Key, the human rights accountability accusations against Sri Lanka.
The Green Party MP, Jan Logie had told Key that Sri Lanka Prevention of Terrorism Act (PTA) had allowed people to be detained indefinitely without charges.
Wickremesinghe's unity government with President Maithripala Sirisena had stated that a new anti-terror bill would replace the PTA.
"The government had appointed a committee to look at the PTA and to draft a new counter terrorism bill. This will be done to meet international standards," said Sagala Ratnayake, law and order minister who is part of Wickremesinghes delegation in New Zealand.
Tamil and human rights groups have pointed to the draconian nature of the PTA which was enacted in 1979 during the early days of the LTTE militancy.
During the LTTEs over three-decade armed campaign to set up a separate Tamil state, many LTTE activists were held under the PTA.
International rights groups have urged the Sri Lankan government to repeal the PTA and release those held under its provisions.
(Deccan Chronicle)