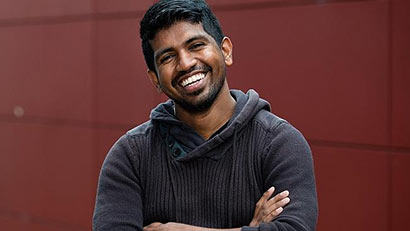 A Sri Lankan student who found more than $100,000 while cleaning toilets at Channel Nine's headquarters has been richly awarded for his honesty.
The Melbourne Magistrates Court heard Chamindu Amarsinghe, who found hundreds of $50 and $100 notes stuffed into a sanitary bin at the Dockland office in August 2011, will receive $81,597 of the unclaimed cash for his honesty. The remaining $19,500 will go to the state.
Mr Amarsinghe at first thought it was a prank, News Limited reports.
"There was too much to count," he said.
"But when I touched the notes … I realised it was real money."
Mr Amarsinghe said he immediately called his supervisor, who alerted the police.
After a plumber pulled out more than $100,000 from the Bourke Street bathroom, police launched an investigation into the origin of the cash, but no one came forward to claim it.
On Tuesday, magistrate Michael Smith said: "There's no reason why such honesty should go unrewarded."
Mr Amarsinghe, who now works at a fast-food restaurant and is studying IT in New Zealand, said he was speechless when he received a call telling him the money was his.
"I just want to spend my life in a normal way, find a job in IT and carry out that dream," he said. (The Age)