Wimal won't trust govt. on casino issue
Posted by Editor on May 10, 2014 - 12:00 pm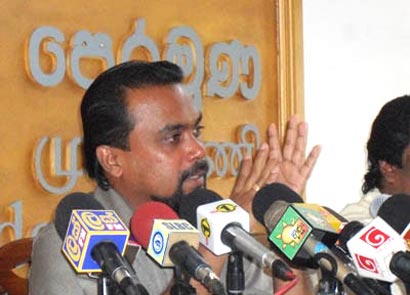 Leader of the National Freedom Front (NFF) Minister of Housing, Construction, Common Amenities and Engineering Services Wimal Weerawansa said yesterday that he did not buy into the government explanation as regards the casino issue  under the Strategic Development Act (SDA).
Minister Weerawansa told The Island that his party spokesman Mohamed Muzammil had already explained why the NFF continued to work with the government.
Weerawansa was not present in Parliament when the vote was taken on the gazettes passed under SDA.
UNP Colombo District MP Sujeeva Senasinghe said that the NFF was already campaigning for the next Parliamentery election and Minister Weerawansa's threat to leave the ruling alliance was only a ruse to gain cheap popularity.
If Weerawsansa had been really against casinos, he should have voted aganst the government when the SDA orders were put to vote, MP Senasinghe said.
Minister Weerawansa was making a big noise now and wanted to show that he was different than the others in the government, Senasinghe said.
He asked the question why Weerawansa remained quiet for so long instead of showing his displeasure and it was only now he was accusing the Rajapaksa brothers of ruining the government after benefiting from them.
Kurunegala District UNP MP Ashok Abeysinghe too was of the same opinion regarding Weerawansa's threats to quit and this was a plan to protect President Rajapaksa and the Executive Presidency for the President to remain in power.
He queried as to way Weerawansa did not issue a deadline to the government to act on the 12 resolutions adopted at the recent NFF Convention, and that it was only a gimmick to keep President Rajapaksa in power for another six year term.
Hambantota District UNP Leader, MP Sajith Premadasa said that it was too premature to comment on the subject and also took a 'wait and see' attitude like the UNP Leadership Council (LC) Chairman, MP Karu Jayasuriya.
(The Island)
Latest Headlines in Sri Lanka