Sri Lankan maid in coma after gas cylinder blast dies
Posted by Editor on May 30, 2014 - 11:19 am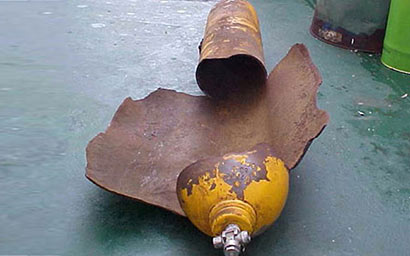 FILE PHOTO –
A Sri Lankan maid who has been in a coma for two weeks as a result of a cylinder explosion died at the King Saud Hospital (Semesi) on Wednesday. Fathima Safaya, 38, was severely burnt in an accident that took place at a Saudi household in the early hours of May 15 in Riyadh.
Safaya, from a town 50 km from Colombo, is a divorcee with two sons. She had come to the Kingdom to provide for her sons and had been working at the household for the past 15 months.
An official from the Sri Lankan Embassy confirmed the death to Arab News and said that the mission will make funeral arrangements in Riyadh with the consent of her kin.
A Sri Lankan Embassy official said the mission has been exerting efforts to safeguard the victim's interests, adding that the police have launched an investigation into the cause of the accident.
The official indicated that the victim's brother, who traveled from Jeddah to be by his sister's side, was receiving assistance from the mission to facilitate coordination with the maid's sponsor.
Rajah, the brother, told Arab News that his sister was a kind, humble and helpful person and had not complained about her sponsors.
"She was in a coma when I last saw her. I could not speak to her," Rajah said, adding that her body was covered with severe burns and her face fully bandaged.
Meanwhile, according to sources, the deceased was reported to have disregarded a warning from her sponsor's wife, who had forewarned her about a gas leak in the kitchen.
According to her sponsor's son, a gas leak occurred in the kitchen and the house caught fire when Safaya switched on the room's light.
The city fire brigade was summoned to douse the flames and the injured patient, suffering from severe burns on most of her body, was rushed to King Saud Hospital (Semesi).
The embassy will negotiate with Safaya's sponsor about salary dues and compensation, if any, according to sources from the mission. (Arab news)
Latest Headlines in Sri Lanka