Sri Lanka's Unity is Not Negotiable, Visiting Indian Delegation Tells President
Posted by Editor on June 7, 2013 - 5:22 pm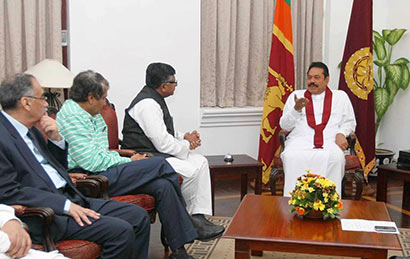 An Indian delegation headed by the deputy leader of the opposition of the Rajya Sabha, Mr. Ravi Shankar Prasad, called on President Mahinda Rajapaksa at Temple Trees this afternoon. During the conversation, Mr. Prasad told the President that "Sri Lanka's unity and integrity are not negotiable."
While congratulating President Rajapaksa for eradicating terrorism, the delegation said that what they saw during their visit to Jaffna "was an eye-opener," noting the development work that has taken place, and said that the Lessons Learnt and Reconciliation Commission report "was a bold step and is brilliantly written."
The delegation also spoke about the nature of the relationship between India and Sri Lanka and said that local issues in Sri Lanka sometimes impact India as well.
"Sri Lanka is a friend of India beyond politics, beyond government," Mr. Prasad said. "It's a relationship of the heart."
The discussion also focused on several other areas of mutual interest, including the challenges faced by fishermen and the Parliamentary Select Committee to find a political solution in the north and east.
"All parties must get together for an all-inclusive political solution," President Rajapaksa said. "We cannot import a solution, and it cannot be a Rajapaksa-Sampanthan agreement."
The Indian delegation asked the President about northern elections to which President Rajapaksa reaffirmed his commitment to holding the elections in September of this year.
Minister of External Affairs Prof. G.L. Peiris, Secretary to the President Mr. Lalith Weeratunga, Secretary to the Ministry of External Affairs Mr. Karunatilaka Amunugama and Advisor the President Dr. Sunimal Fernando were also present for the discussions.
(Courtesy: President Media)
Latest Headlines in Sri Lanka