Taj group to rebrand hotels in Sri Lanka
Posted by Editor on September 24, 2010 - 8:21 pm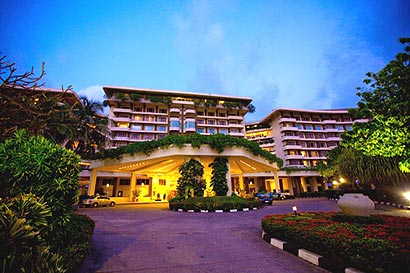 Looking at expanding its business in Sri Lanka after the end of the 30-year-old conflict, the Taj Group of Hotels today announced rebranding and reclassification of its hotels in the Island nation.
"Taj has been among the first hospitality entrants in this country and today we wish to commit ourselves to a renewed relationship with Sri Lanka," Indian Hotels Company Managing Director & CEO Raymond Bickson told reporters here.
"Today two of our existing hotels in Sri Lanka will migrate to the new brands," he said. Under the new brand architecture, the Taj Exotica in Bentota (62 km south of Colombo) has migrated to Vivanta by Taj, in the Upper Upscale category, and will now be known as Vivanta by Taj – Bentota, Sri Lanka.
Currently comprised of 19 hotels in India and the Indian Ocean region, Vivanta by Taj incorporates hotels in key metropolitan areas as well as popular holiday destinations like Goa, Kerala, Rajasthan, Sri Lanka and the Maldives, a release said. Similarly the Airport Garden Hotel here will migrate to The Gateway Hotels, in the Upscale category effective January 2011, and will be called The Gateway Hotel – Airport Garden, Seeduwa.
Explaining the rationale behind the creation of a basket of brands and the relevance to Sri Lanka, Ajoy K Misra, Senior Vice President, Sales & Marketing, Indian Hotels Company Ltd, said, "Each brand has been created to appeal to a distinct psychographic segment and have unique identities."
"The creation of these brands allows us to tap the consumer at every market segment and at every price point. "In Sri Lanka, this restructuring of our existing hotels will allow guests to experience signature service at each hotel", Misra said while speaking on the occasion.
It may be recalled that the Taj Samudra in the heart of the city of Colombo has been the company's flagship hotel in Sri Lanka. It has over 300 rooms, 19 suites and three business floors.
News Courtesy: Deccan Herald
Latest Headlines in Sri Lanka