Ten Sri Lankan Software Companies Participated at GITEX Technology Week – 2012 in Dubai
Posted by Editor on November 8, 2012 - 1:04 pm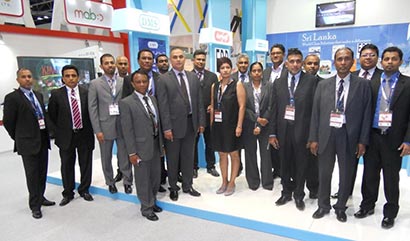 Sri Lanka Export Development Board (EDB) in collaboration with the Consulate General of Sri Lanka in Dubai organized a Country Pavilion at GITEX 2012. This year, 10 Sri Lankan software companies exhibited their software solutions at GITEX Technology Week held in Dubai World Trade Centre from October 14-18, 2012.
Sri Lanka's software export sector is known for providing automated application testing and infrastructure outsourcing, high-end R & D, enterprise resource planning [ERP] implementation, cloud and open source applications, among others.
Sri Lankan software has been exported to regions such as North America, EU, Australasia, East Asia and Middle East. Several fortune 500 companies from the USA, Ireland, U.K., Australia etc. and joint venture development companies from Sweden, Norway, USA, Japan etc. have chosen Sri Lanka as an offshore development centre.
Mr. Janaka Ratnayake, Chairman and Chief Executive of EDB said that Sri Lankan software exporters are successfully competing in several niche areas of the global ICT markets. He said that the Middle Eastern and African software markets are also increasingly being focused by Sri Lanka's software exporters.
Mr. Abdul Raheem, Consul General of Sri Lanka at the Business Networking Dinner Meeting organized by the Sri Lanka Mission in Dubai said that GITEX event has created a platform for Sri Lankan companies to enter Middle East markets and the global destination. IT spending in the Middle East and Africa Regions will surpass US $ 65 billion this year and growing nearly 12% every year. "Hence this is an ideal opportunities for SL companies who are participating at this important event to establish contacts and expand their business relations to other regions, particularly MENA, through GITEX 2012", Abdul Raheem remarked.
Sri Lanka Tea Promotion Unit attached to the Consulate has organized a Ceylon Tea Serving at the Country Pavilion at GITEX 2012.
H.E. Sarath Wijesinghe, Ambassador of Sri Lanka in UAE, Mr. Farook Kassim, Chairman of Sri Lanka Business Council, Mr. Saman Maldeni, Director / EDB and members of the business community in Dubai attended the dinner meeting.
AccSoft Solutions (Pvt) Ltd, Axienta (Pvt) Limited, Data Management Systems (Pvt) Ltd, Evolve Technologies (Pvt) Limited, Eyepax IT Consulting (Pvt) Ltd, hSenid Business Solutions (Pvt) Ltd, IronOne Technologies (Pvt) Ltd., John Keells Computers (Pvt) Ltd, Just In Time Technologies (Pvt) Ltd, Pristine Solution (Pvt) Ltd were housed in the Sri Lankan Pavilion.
Latest Headlines in Sri Lanka