TIRAN AND PRESIDENTIAL OFFICE TELL BBC THAT SARATH FONSEKA WILL BE RELEASED ON MONDAY
Posted by Editor on May 20, 2012 - 4:02 pm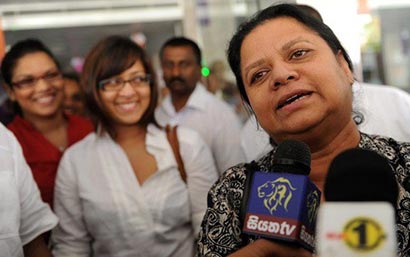 Onlanka News – By Walter Jayawardhana
The BBC said on Saturday that Sri Lanka's President Mahinda Rajapakse had ordered the release of the jailed former army chief, Sarath Fonseka on Monday.
"A presidential spokesman told the BBC he would be freed on Monday after formalities were completed," the radio station said.
Mr Fonseka was arrested two years ago after standing against Mr Rajapakse for the presidency.
The former head of the Sri Lankan military was widely credited with the 2009 victory over the Tamil Tigers.
Sri Lanka has been marking the three-year anniversary of the end of the 26-year civil war this weekend, and held a large military parade in the capital, Colombo, on Saturday.
Mr Fonseka was jailed for corruption in 2010.
A parliamentarian and aide to Mr Fonseka, Tiran Alles, told the BBC that he was likely to walk free on Monday, which is also the day that doctors say he can be discharged from the hospital.
Mr Fonseka has been receiving treatment for a respiratory problem.
Sri Lanka's foreign minister is currently in Washington and has been meeting US Secretary of State Hillary Clinton to try and fend off allegations of war crimes.
Latest Headlines in Sri Lanka