Traditional document with New Year auspicious times (Nekath Seettuwa) presented to the President
Posted by Editor on April 11, 2014 - 1:15 pm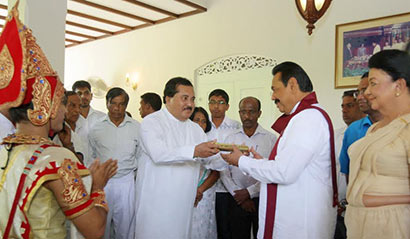 – by Janaka Alahapperuma –
In keeping with age old customs and traditions, the document containing the auspicious times for the traditional New Year has been handed over to President Mahinda Rajapaksa. The presentation of the Sinhala and Tamil New Year rituals time table known as 'Nekath Seettuwa' to the President took place at Carlton House, Tangalle on Thursday morning (10 April). The event took place under the guidance of the Cultural Affairs Ministry.
In the ancient past drummers used to distribute the Sinhala and Tamil New Year traditions and auspicious times among the households. Marking the ancient tradition a drummer presented the 'Nekath Seettuwa' to the President.
The Sinhala and Tamil New Year dawns at 07.37 am on Monday, 14 April. Astrologically, the Aluth Avurudda symbolizes the transition of the Sun from Pisces to Aries. The Punya Kalaya for religious observances is from 01.13 am on 02.01 pm on April 14th. The auspicious time for lighting of the hearth and cooking of the first meal with 'Dee kiri and jaggery' mixed milk rice is 10.17 am. The hearth should be set facing the south. The first meal for the New Year should be taken at 11.05 am. White attire is recommended. This traditionally includes starting work and engaging in the first transaction for the New Year. The auspicious time for anointing oil is 11.16 am on April 16th. The auspicious time for leaving for work is 6.16 am on Thursday, April 17.
First Lady Shiranthi Rajapaksa, Culture and the Arts Minister T.B. Ekanayake, Secretary to the Ministry of Cultural Affairs, Vasantha Ekanayake and Chief of Presidential Staff Gamini Sedara Senarath were also present on the occasion.
(Pictures by: Chandana Perera)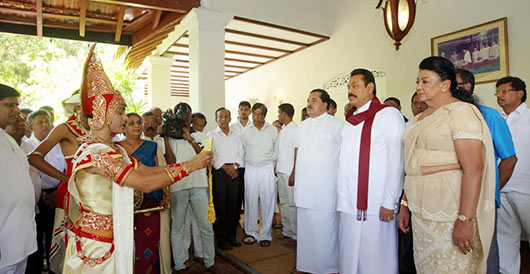 Latest Headlines in Sri Lanka