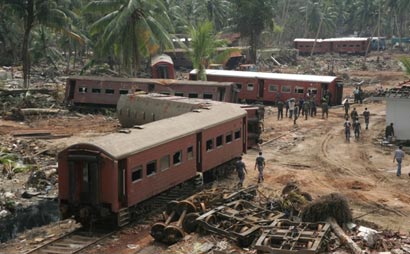 Eranga Mendis of Dharmashoka College, Ambalangoda was among the thousands of Sri Lankan children who managed to escape the 2004 tsunami, when tidal waves hit the coast six metres away from her house.
The Asian tsunami claimed over 30,000 lives in Sri Lanka. It occurred on December 26, nine years ago.
Eranga says she is lucky to be alive and gets frightened when she recalls the 2004 tsunami.
She says she and her family were lucky to escape the tidal waves on that fateful day.
She recollects how her mother yelled out to the neigbours to leave their houses as soon as tidal waves struck their houses.
"We ran and ran without looking behind in fear of the tidal waves," she says.
Eranga said she along with her sister ran to her grandmother's place.
"Many houses of my relations were destroyed by the tidal waves," she said. She said that they were preparing to go to temple when the tsunami hit the coast. Eranga thanked the government for the assistance to rebuild houses damaged by the tsunami. "A number of organisations helped the victims," she said.
Eranga added that Sri Lanka Army personnel were in the forefront in helping them to remove the debris.
(Courtesy: Daily News)