Two Japanese Naval Ships arrive at the Port of Colombo
Posted by Editor on April 26, 2013 - 2:51 pm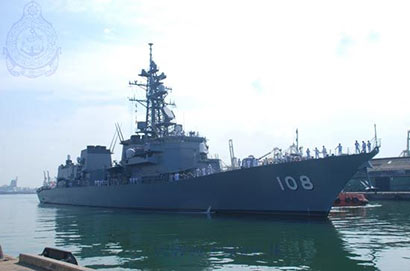 Two Japanese naval ships, Akebono DD- 108 and Hamagiri DD- 155, arrived at the Port of Colombo for logistics requirements on 25th April 2013. The ships were en route for Counter Piracy Operations off the Coast of Somaliya and in the Gulf of Aden. They were welcomed by the Sri Lanka Navy in accordance with naval traditions on arrival.
Head of the team, Commander Escort Division 6, Captain Tsutomu Iwasawa and Ships' Commanding Officers, Commander Katsuyoshi Motoyama and Commander Tetsuro Sato paid a courtesy call on Commander Western Naval Area, Rear Admiral Sirimevan Ranasinghe of the Sri Lanka Navy at the Western Naval Command Headquarters in Colombo. They held cordial discussions and exchanged mementos as a gesture of goodwill.
"Akebono" is a destroyer with two helicopters onboard. It is 151 meters in length. It consists of a complement of 190 naval personnel and has a displacement of 4,550 tons. "Hamagiri" is also a destroyer with a helicopter onboard. It is 137 meters in length and has a displacement of 3,550 tons. It consists of a complement of 220 naval personnel.
The ships' complements will participate in a special programme organized by the Sri Lanka Navy during their stay in Sri Lanka. The visiting Japanese ships will stay in Sri Lanka until 26th April.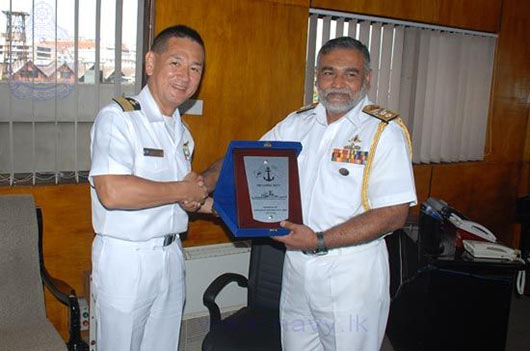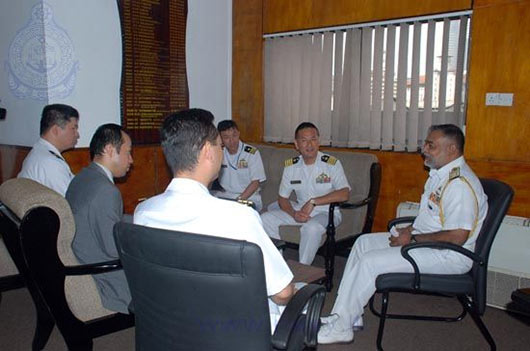 Courtesy: Sri Lanka Navy
Latest Headlines in Sri Lanka