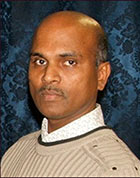 Two Sri Lankan men were charged yesterday with the murder of a former commander of Sri Lanka's Tamil Tigers rebel group in Paris, a French judicial source said.
Nadarajah Mathinthiran was gunned down on November 8 as he was leaving the headquarters of the Tamil Co-ordination Committee in France (CCTF), an organisation regarded as a front for what remains of the Tigers.
The two suspects, both born in Sri Lanka in 1979, were arrested on Sunday and are being held in custody in Paris.
According to the judicial source, one of the men is suspected of ordering the murder and the other of carrying out the hit on the Sri Lankan-born French national, who died in a hail of bullets.
They have been charged with murder and immigration
offences.
Mathinthiran was a leader in the Paris division of the CCTF, and in February was sentenced to five years in prison for extortion and financing terrorism.
He had served more than three years in prison after being
arrested in 2007.
The Tamil Tigers fought for the independence of the Tamil state in Sri Lanka, and at one point controlled one-third of the island.
Their 37-year campaign ended in 2009 when their leadership was obliterated by government forces.
Mathinthiran's daughter on Monday accused the Sri Lankan government of involvement in her father's murder.
"There is every chance that it was the Sri Lankan government," Saarrah Mathinthiran said at an impromptu memorial service near the site of the shooting, adding that the two men involved in the attack "knew how to shoot very well".
AFP