UPFA in last ditch bid to keep SLMC
Posted by Editor on December 16, 2014 - 8:09 am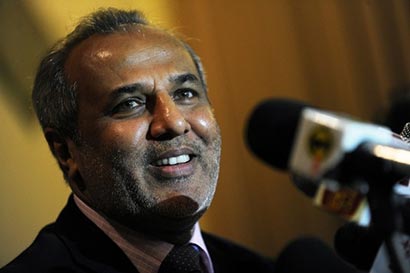 A top level government delegation yesterday held talks with SLMC leader Rauff Hakeem in a bid to retain his support for incumbent President Mahinda Rajapaksa's re-election bid at January 08, 2015 presidential election.
UPFA General Secretary Susil Premjayantha, SLFP General Secretary Anura Priyadarshana Yapa, and SLFP Treasurer Dallas Alahapperuma met Minister Hakeem at the Presidential Secretariat.
Sources told The Island that presidential secretary Lalith Weeratunga had joined the discussion.
After having backed former army Chief Gen. Sarath Fonseka's candidature at the Jan. 26, 2010 presidential election, the SLMC contested last parliamentary election in April 2010 on the UNP ticket. Subsequently, it switched its allegiance to President Rajapaksa and voted for the 18th Amendment to the Constitution to enable the incumbent president to seek a third term.
A senior SLMC source told The Island last night that SLMC leader Hakeem had prohibited all its elected and nominated representatives of the party from leaving the country until the conclusion of the presidential election. The official said that representatives shouldn't leave the country immediately after the election either. Responding to a query, the official said the party decision was intended to safeguard the integrity of members. The SLMC confirmed Minister Hakeem's meeting with the government delegation in a bid to reach an understanding. The SLMC declined to comment on the outcome of yesterday's discussion which lasted about 90 minutes.
The SLMC was attempting to thwart a government effort to induce crossovers from its ranks, sources said.
(The Island)
Latest Headlines in Sri Lanka