US security adviser Rice pledges help for Sri Lanka 'transition'
Posted by Editor on February 7, 2015 - 11:15 am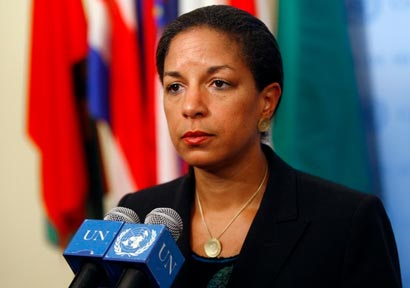 The United States pledged on Friday to assist Sri Lanka's new government in creating a more open and democratic society.
In a speech laying out President Barack Obama's updated national security strategy, U.S. National Security Adviser Susan Rice included Sri Lanka alongside Myanmar – which is also known as Burma – and Tunisia as a country "in transition."
"We'll help countries in transition – like Burma, Tunisia, and Sri Lanka – become more open, more democratic, and more inclusive societies," Rice said in a speech at the Brookings Institute.
Earlier, State Department spokeswoman Marie Harf said the United States had commended steps by new Sri Lankan President Maithripala Sirisena to address post-war reconciliation and long-standing issues such as governance and accountability.
"Certainly have seen some positive steps here," she told a regular news briefing.
On Thursday, Nisha Biswal, the U.S. State Department's senior official for South Asia, who visited Sri Lanka last week, told reporters Sri Lanka still faced "big challenges" dealing with issues such as reconciliation.
"But there's such a strong commitment that's visible in this government to want to address these issues that we very much want to work with them to see that happen," she said.
The United States is keen to bolster ties with countries throughout Asia as part of its effort to counterbalance an increasingly powerful and assertive China, which has sought strategic influence in Sri Lanka.
The Sri Lankan government said this week it was planning a new investigation into accusations of human rights abuses in the final stages of a 26-year civil war that ended in 2009, amid international frustration at the failure of former president Mahinda Rajapaksa to look into numerous civilian deaths.
Rajapaksa had refused to cooperate with any United Nations investigation into claims the army committed atrocities in the war. He was ousted in a surprise election defeat last month.
Sri Lanka's new Foreign Minister Mangala Samaraweera is expected to visit Washington next week.
(Reuters)
Latest Headlines in Sri Lanka