Vandalised Gandhiji statue in Sri Lanka restored
Posted by Editor on April 16, 2012 - 10:14 am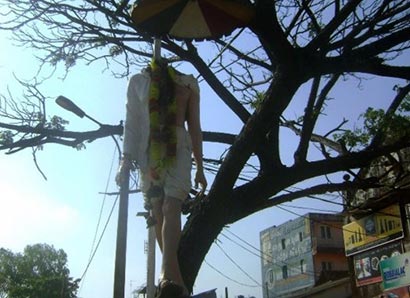 A statue of Mahatma Gandhi that was vandalised late on April 5 in the East Sri Lankan town of Batticaloa, headquarters town of the Tamil-dominated Eastern province, has been restored. Three other statues are in the process of being restored.
"The statue looks as it did earlier," the Eastern Province Chief Minister Sivanesathurai Santhirakanthan, told The-Hindu over phone from Batticaloa. Plans were afoot to install one more Gandhiji statue in the Eastern headquarter town, he said.
Mr.Santhirakanthan, a former LTTE child soldier who took the reins of power even when the Tamil Tigers were holding sway in the Northern province, said that the restoration work began soon after people noticed that the statue had been vandalised. "We began work immediately and finished it in a couple of days."
Though 10 days have passed, there have been no arrests. Initial enquires had indicated that this was an isolated instance, but it has not found many takers. Four statues were damaged, it is pointed out, and this is the second such incident in a year. Sometime ago, it was a Vivekananda statue that was the target.
The Gandhiji statue for instance is a tall one. Even with a ladder, it is a steep climb to reach the top for purposes of garlanding. Given this, it appears certain that multiple persons were involved in the incident and that they were carrying a ladder and equipment to cut through the statue. The statues were all cut at the neck and the head portion was thrown away.
In all, four statues were vandalised — those of Gandhiji, Tamil scholar Swami Vipulananda, poet Periyathampi Pillai and Scouts Movement founder Baden Powell. All the statues are in Batticaloa town. The statues of Gandhiji and Baden Powell are located near the city centre.
India had taken up the issue at the highest level and requested that the statue be rebuilt. The Indian High Commissioner to Sri Lanka Ashok K.Kantha spoke to Sri Lankan Foreign Secretary K.Amunugama. The High Commission also contacted the Chief Minister.
"No arrests have been made so far. The police have assured me that they will get a breakthrough soon," the Chief Minister said. (The Hindu)
Latest Headlines in Sri Lanka