Vijay Sethupathi withdraws from Madhur Mittal in lead role; Story '800' by Muttiah Muralitharan
Posted by Editor on April 17, 2023 - 4:08 pm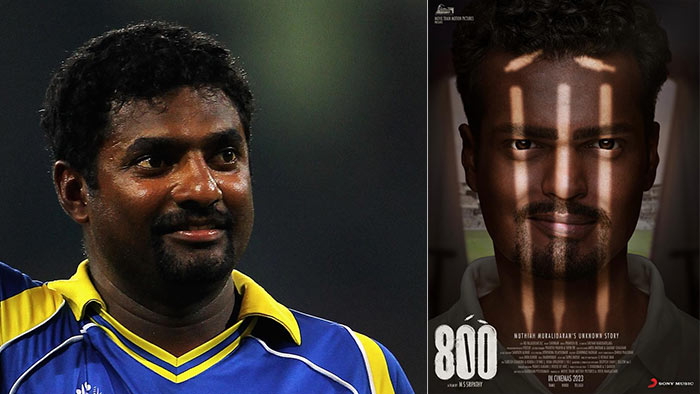 The first look poster of the movie '800' which tells the life story of Sri Lankan cricketer Muttiah Muralitharan has been released.
Bollywood actor Madhur Mittal plays Muralidharan. Madhur is a notable star in the film 'Slum Dog Millionaire'.
This was the film which had earlier announced Vijay Sethupathi as the hero. The first look of Sethupathi Muralidharan was released. But after the film went viral, there was a huge protest against the film and the actor in Tamil Nadu and the actor withdrew from the film.
The protest against Vijay Sethupathi was alleging that Muralidharan had justified the massacre of Tamils ​​in Sri Lanka and had taken a stand in favor of Mahinda Rajapaksa. The hashtag 'Shame on Vijay Sethupathi' is also trending on social media. Later political parties and Tamil organizations took up the issue. The warning was that if the move goes ahead with the hurtful sentiments of Tamils, not only this film but also the upcoming films will have to suffer the consequences. Behind the objections is that Muttiah Muralitharan supported the Tamil genocide in Sri Lanka.
'It is not enough to see the film as a film. Seeing the other way is the cause of the problems. When Muthiah Muralidharan became the coach of the IPL team Sunrisers Hyderabad, there is no problem when the film is announced.' The counterarguments were as follows. The main allegation is that the film is whitewashing the Tamil genocide with the support of the Sri Lankan government. It is also being spread in the social media that the producers are the benami of people close to the Sri Lankan rulers. But the makers, Dar Motions, say that the film is entirely a sports biopic and tells the story of a boy who grew up as an orphan and grew up to become the world's highest wicket-taker.
Filming has been completed in Sri Lanka, Chennai, England, Kochi and Australia. The film is slated for release in Tamil, Telugu, Hindi and English languages. Naren, Nasser, Vela Ramamurthy, Rithvika, Hari Krishnan and others are the main characters in the film. Let's wait and see how Tamilians will react when the film releases with a new hero.
(India Postsen)
Latest Headlines in Sri Lanka