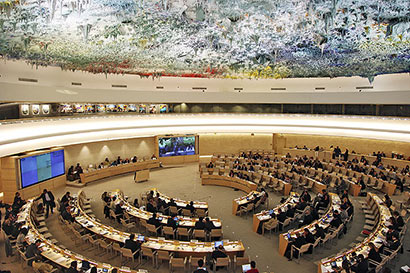 The vote on the US-sponsored United Nations Human Rights Council (UNHRC) resolution on Sri Lanka will be held today (March 21) in Geneva.
The final draft resolution was tabled by the US on Sri Lanka at the UNHRC sessions on March 19.
47 member states are eligible to vote on the resolution which will take place during the morning sessions today.
Several member states including Sri Lanka, US, UK and China as well as several NGOs shared their views on the situation in Sri Lanka and the resolution yesterday.
Addressing the 22nd Session of the UNHRC, Minister Mahinda Samarasinghe stated that the Report of the High Commissioner for Human Rights Navi Pillay on Sri Lanka has gone beyond the mandate granted under resolution 19/2 which limited her role to reporting on the provision of technical assistance. (Courtesy: Ada Derana)