We remain afraid of Rajapaksas – Akila Viraj Kariyawasam
Posted by Editor on June 19, 2018 - 7:52 am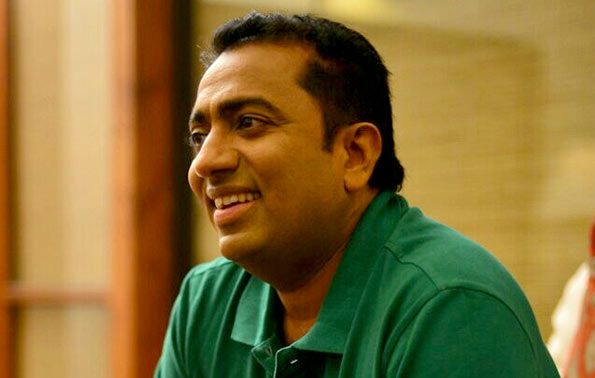 Excerpts from an interview with Minister of Education Akila Viraj Kariyawasam:
You hinted about UNP's 2020 Presidential candidate. Didn't you say that it will be the UNP leader who will come forward?
A: Yes. It will be our Party Leader Ranil Wickremesinghe who will come forward as the Presidential candidate.
But aren't there other stories circulating within the Party?
A: No. There are no other stories.
Why not? The backbenchers of the Party are talking about Kumar Sangakkara. Some others are talking about Sajith Premadasa. Still others are talking about a common candidate. So, what is the truth?
A: The truth is that Ranil Wickremesinghe will come forward as the candidate. The UNP is a large Party. So, we will not issue declarations at junctions and bazaars about the Presidential candidate of such a giant Party. It is at the Party's Working Committee or Parliamentary Group that the information will be revealed. It is Ranil Wickremesinghe who will be our next Presidential candidate.
The term of Wickremesinghe as the Party Leader ends in November. If some other Party Leader is appointed, will he be the candidate?
A: The Party Leader is Ranil Wickremesinghe. We will disclose the information to the public at the correct time. It is only Ranil Wickremesinghe who will contest in 2020.
So, are all other stories false?
A: There is no use of other stories. It is what I say as the General Secretary of the Party that would be officially valid.
Are you also among the 118 who accepted 'Bond' money?
A: No. Never.
Don't you think that the names of the 118 should be revealed to protect the honour of Members of Parliament?
A: It's good if their names are revealed. I don't mean that all those are rogues. We can't say that it is so. All 118 won't be rogues just because they received the money either. It will be theft only if there was some deal or some other transaction. I am not among the 118. So, what I say is that the names must be disclosed.
Who is preventing the disclosure of names? Why aren't the names being released after so many requests?
A: It has to be done by relevant authorities. We have no problem if the names are disclosed. This has to be done by the President's Secretary, Attorney General and the Speaker getting together.
The 20th Amendment is being talked about these days. Does the UNP also like to keep the Executive Presidency? What is the opinion of the Party?
A: We have not discussed it yet. As a Party we did not discuss it in the Working Committee.
While UNP is preparing for 2020, SLFP and SLPP are seen as a challenge. There is also division within the UNP itself. Today, people in villages are not with the UNP. Isn't it the truth? Isn't it because of that, the Local Government elections were lost?
A: There were many reasons why we lost the Local Government elections. There was a severe drought in the country. Four crops of paddy had been destroyed.
Media freedom was at its zenith. We were vehemently attacked through the media. If it happened during the Rajapaksa era, it's unthinkable how many would have vanished.
What happened to Lasantha, Poddala and Keith Noyahr would have happened. On the other hand, publicity was not given to the work we did. We did a great deal of work in the villages. We did not tell the villagers about it properly. School children were given the Suraksha Insurance scheme. Nutrition packs were given to pregnant women. Public servants' salaries were increased by Rs 10, 000. The prices of petrol and diesel were reduced. 70% of the loans taken by the Rajapaksa Government are still being paid. Having done all this we still didn't get the vote.
Isn't it a weakness in the Party machinery?
A: It can be, but if we took news of all the work we did to the villages, we could have got a better percentage of votes. We have given Rs 25 lakhs each to 14, 000 Grama Niladhari Divisions in the last two years. We have given jobs. Today, the unemployment rate has dropped to 4%. All this was not taken to the people. That's why the Local Government election result was unfavourable.
Wasn't the division between the SLFP and UNP a reason for the election loss?
A: We were all in one National government, but SLFP high ups attacked us severely. That also affected us. People got fed up when two factions of the same Government fought among themselves. That's the truth.
Wasn't not keeping the promises made when coming to power, also a reason for the Government's decline?
A: We kept a lot of promises. But we didn't catch thieves. There are many reasons for it.
Officials appointed to nab thieves pocketed the offerings and shirked their duties. And also some cases were postponed as it was never anticipated. We are doing all this within the machinery of the Rajapaksas. It's with officials, whom they gave promotions to, that we have to work with today.
They are manipulating these things as they want and are destroying evidence. So, the accused in some cases cannot be arrested. Those who are there won't give evidence. So, the thefts and crimes committed at that time have gone underground. Dubai doesn't give any information. They hide black money.
Reasons such as these have influenced it. All this was for our disadvantage.
The Government is yours. But you seem to be under the Rajapaksa phobia still?
A: Actually although we are in the Government, we are still afraid of the Rajapaksas. Their criminal activities are strong and they are up to them not only when in government, but even when in the Opposition. That's why there is no evidence.
How can evidence be destroyed? Why isn't it stopped?
A: It's with the collusion of some officials inside that all this happens.The cases of fraudsters and thieves are being postponed for long periods. Therefore, such matters have to be thought about again. Then we feel afraid also.
Was it also why having commenced the 100 Day Government alone, it was not possible to continue with it? Wasn't even the President aware of it?
A: The 100 Day Government programme was formulated by the President and the Prime Minister working together. It is he who has to be asked whether he didn't know about it.
What is the position of the National Government?
A: Good.
Will the National Government go forward or not?
A: We don't know still. We will see what will happen in future. We are going forward as far as possible.
Was the election of the Deputy Speaker, a test of strength in Parliament?
A: All including those of the Lotus Bud gave their vote to the UNP's candidate. The Lotus Bud is now divided into two or three. The SLFP group is divided. Having lost even, the UNP is protecting its wicket.
Although there are different opinions inside, our leader was able to bring all MPs together. That's what's called political acumen.
Are 20 backbenchers leaving the UNP?
A: No. I talked to the backbenchers. They will work together in future. Their requests have been fulfilled. I discussed it with MPs Chaminda, Hirunika and Sesha. They are agreeable to go on a journey united.
Party reforms were not done properly. Wasn't it alleged that it was the PM's men who came back into positions?
A: The reforms were done according to the opinion of the majority. It is difficult to fulfil the wishes of all in a democratic party.What I also say is that this is not what I expected. However, it is the opinion of the majority that is important. It was according to the opinion of the majority that the reforms were done.  So, it may not be what we expected 100%. Anyway, reforms amounting to 75% were done.
Won't there be a question of discipline in the party when the party's MPs express different opinions? How do you see this as the party's General Secretary?
A: We are happy in one way as a democratic party even while being in Government. There hasn't been such a democratic party as this in history and won't be in future. On the other hand, all have been told to maintain discipline in the Party when going forward. Stringent disciplinary measures would be taken in future if party discipline is not maintained. Any question can be discussed at the party's Working Committee meeting or at Parliamentary Group meeting.
We allowed a reasonable time for them to speak up. It's now time for that to end. If that happens in future, certain decisions have to be taken.
Will it be possible to work with the new team of officials? Can these challenges be overcome?
A: Yes. It was also when there were a number of challenges that I was appointed General Secretary. This has been one of the most difficult times for the party. I am fully aware of it. We have gathered experience from the day we entered politics. We are organizing the party along with our group. I can make a victorious UNP with all the officials. We are engaging in this battle well, targeting 2020. We will remove the injustices done to Samurdhi beneficiaries.
We will implement programmes for youth. We will serve at the village Grama Niladhari Division level. We will definitely win in 2020. Whoever comes in 2020, it will be we who will win.
There are allegations against you that there is no progress in the Education sector. What have you got to say about it?
A: I know that the Education Ministry is one that is always invariably criticized. While facing all that criticism, a great deal of work has been done. No money can be charged when admitting children to schools. If that happens, punishment will be meted out irrespective of status. We won't allow commissions to be taken.
We implemented the 13-year Continuous Education System. Every child failing GCE Ordinary Level will be promoted to Advanced Level. We started pilot programmes. We recruited 4,000 school principals. No political interference is allowed. Of the 10, 000 schools under the Closest School Project 3, 000 schools didn't have science laboratory facilities.
We provided science laboratory facilities.There was electricity in only 68% of schools. We increased it to 98%. We provided drinking water. We built 26, 000 toilets. A sum of Rs 600 million was given to buy books for school libraries.
Computers will be provided to students above Grade 6. Teachers were trained and everything was done. It was because of this that there was an improvement in the GCE Ordinary Level Examination results, last year. So, we have done a lot of work. Yet one or two people would criticize us. It is step by step that we have to overcome these shortcomings.
Can you achieve the targets within the next 18 months and get a UNP President elected?
A: We will do more work in these 18 months than what we did during the last 3 ½ years. We will show results, make the UNP very strong and win. However, although the Lotus Bud won, it has not been able to manage the victory properly. We lost but we managed our affairs well.
One allegation against the UNP is that everything is privatized. Can't the UNP develop the country without selling its resources?
A: It was the UNP that brought massive development to the country. We didn't develop the country by selling resources. Mahinda Rajapaksa got indebted to the world and built a harbour and an airport. The Government cannot let them idle and keep on paying back debts. The Government needs money for it. What we did was to lease these out and save the country from the debt burden. We have reduced the debt of this country little by little. What we want is not a Sri Lanka shrunken by the debt burden. It is the UNP that is bringing proper development to the country. The people of this country know it. The Opposition spreads various stories to fulfil its political needs. That's the truth.
(Source: Ceylon Today – By Prageeth Sampath Karunatilake)
Latest Headlines in Sri Lanka