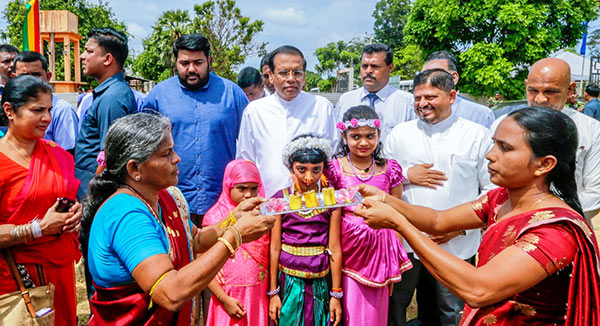 The home should be transformed into the safest and most secure place for the child generation which formed the life blood of the nation, President Maithripala Sirisena said.
The President made this observation delivering the inaugural address at a district conference under the Child Protection National Programme at the Killinochchi Madya Maha Vidyalaya grounds as the Chief Guest yesterday.
The President who said that children should be safeguarded at all costs added that ensuring a safe and secure life for children was the responsibility of everyone.
He said children in Sri Lanka too faced various problems like their counterparts in other countries and it was to pay special attention to children's problems and bring urgent solutions to them that he launched the Child Protection National Programme.
The President said children more often encountered problems at the home front due to economic difficulties, liquor and drug addiction of parents and parents' lack of proper understanding about their offspring and other reasons.
"There were rare occasions of children being abused by parents. This was a practice unacceptable in a disciplined society," the President said.
The Child Protection National Programme is implemented countrywide in five sectors of preventing child abuse, ensuring their security, health nutrition and welfare, personality development and uplifting education and life skills.
The inaugural ceremony of this programme was held in September 2017 at the Digana Provincial Sports Complex in Kandy, at which the 2017-2019 National Plan was unveiled.
During the Killinochchi District Conference yesterday, several joint programmes were implemented by the Presidential Secretariat, Women and Children's Affairs Ministry and several other ministries and institutions.
The President also participated in several other connected programmes on this day including the opening of a new playground at the Kanagapuram Vidyalaya, distribution of funds towards modernisation of children's homes and detention homes, handing over of funds for the development of access roads and other facilities at selected children's homes and detention homes.
The President also distributed domestic water filters among 1,000 families facing acute shortage of pure drinking water, books, furniture and sports goods among selected pre-schools and cash benefits among families with children leading unprotected lives. Northern Province Governor Reginald Cooray, Womens and Childrens Affairs Minister Chandrani Bandara, Deputy Ministers Cader Masthan and Angajan Ramanathan, Northern Province Governor C. V. Vigneswaran, Killinochchi Government Agent Sunderam Arumainadan and Additional Secretary to the President Rohana Dissanayake were also present on the occasion.
(Source: Daily News – By Mahinda Aluthgedara)