We're better than UPA on fishermen issue: Sushma
Posted by Editor on December 10, 2014 - 10:12 am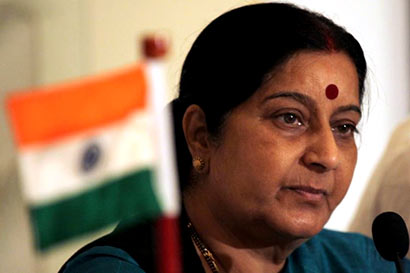 The National Democratic Alliance government should be given full credit for ensuring the commutation of the death sentence given to five Indian fishermen by the Sri Lankan government and their repatriation to India, External Affairs Minister Sushma Swaraj told the Lok Sabha on Tuesday.
She said that while the previous UPA government would take 60-68 days to secure the release of Indian fishermen who strayed into Sri Lankan waters, the BJP government secured the release of such fishermen in three-12 days.
Acknowledging that 38 Indian fishermen and 82 fishing vessels were still in Sri Lankan custody, she said the government was "working towards their early release and repatriation."
However, three Indian fishermen who had "unknowingly drifted in their damaged boats" to the Sri Lankan coast because of inclement weather were rescued by the Sri Lankan Navy and repatriated to India on Monday, she added.
When the AIADMK MPs asked the government to bring in a Bill to take back the Katchatheevu from Sri Lanka, Ms. Swaraj said she could not comment on it as the matter was in the Supreme Court.
Thereafter, AIADMK member M. Thambidurai, who is also the Deputy Speaker, said: "You cannot just say the matter is before Supreme Court … Parliament is supreme. How can we not discuss [the issue]? It is part and parcel of Indian territory. When the agreement [with Sri Lanka in 1970s] had taken place, rules and regulations were not followed strictly." Citing the pending Bill on exchange of territories with Bangladesh, he said a similar law could be introduced for Katchatheevu.
(The Hindu)
Latest Headlines in Sri Lanka