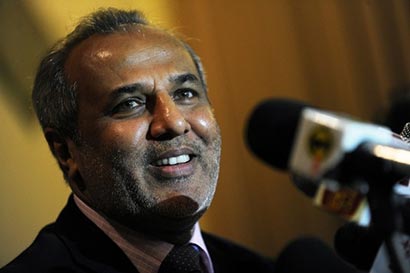 Decision before New Year
The Sri Lanka Muslim Congress (SLMC) on Friday denied reports of internal party rifts, but said members have called on the party high command to take a firm stand on the recent spate of anti-Muslim campaign and push the government to address the issue.
SLMC General Secretary Hassan Ali said members have called the high command to advance their next meeting which is scheduled to be held on April 27, before the Sinhala and Tamil New Year.
"Our next meeting is scheduled to be held on the 27th of this month, however, we feel as a party that we've waited too long and might need to come to a decision," said Hassan Ali, General Secretary of the SLMC. "Our last meeting was not decisive as some felt we need to take a wait-and-watch approach while others thought that we needed to take stand."
Reports which surfaced in the media following the meeting alleged that there was friction among members since some were absent from the meeting whilst others were not content with the decision reached.
"There isn't a rift among the issue that was discussed but merely over the fact that we could not come to a conclusion during the last meeting," he said. "However, that will change since we feel that as a party we've waited too long for the government to respond and it might be fair to Muslims if we come to a decision."
He cited that although the SLMC is part of the government, it can and will come to an independent decision. "The fact that the government has not even condemned Bodu Bala Sena as a religious extremist outfit is still a bone of contention among Muslims," he said.
According to him, the SLMC was awaiting the report by the Parliamentary sub-committee which was tasked with resolving the Halaal issue. "The former Prime Minister Ratnasiri Wickremanayake who heads the committee suggested that the government come up with a draft proposal on how to go forth with the issue at hand. We, however, feel that the committee is dragging its feet over the issue."
"Only when the draft proposal is put forth, all members would be able to come back to negotiations, we however feel that it has taken longer than necessary." The SLMC high command which was held last Saturday said that the future of the SLMC in the government was at risk since it had failed to take appropriate action with regards to the threats faced by the Muslims in recent times.
SLMC high command was of the opinion the government had not directly responded to the threats faced by the Muslims in the country.
(Courtesy: The Nation)