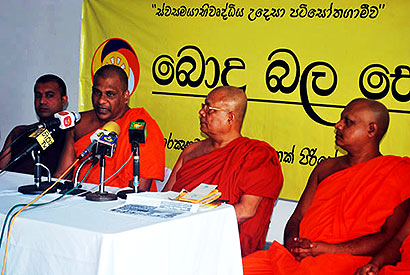 The Buddhist hardline organization Bodu Bala Sena (BBS) Friday said that the country's fate would be changed within two months.  Addressing a press briefing held in Colombo, the secretary of BBS Ven. Galagodaaththe Gnanasara Thero said that a conference of Buddhist monks would be held soon to decide the future action.
He further said that the Buddhist monks would not allow under any circumstance the country to be converted to a state like Thailand. BBS said that it will not allow the casinos and other betting businesses to surge in the guise of developing tourism.
The BBS secretary criticized the several websites, including the websites linked to Minister Wimal Weerawansa, leftist Minister Vasudeva Nanayakkara and Minister Mervyn Silva for criticizing BBS and acting against it.
Bodu Bala Sena's hardline attitude towards other religions has drawn concern from moderate Sri Lankans who fear that a Taliban like group is in the formation if the government and the society fail to take action against the group.
(Courtesy: Lakbima News)