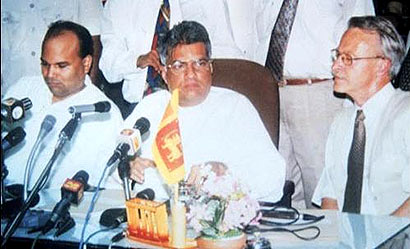 – by Shenali Waduge –
Winning hearts and minds of terrorists, mentality of surrender, advocating theory of "unwinnable war" and policy of appeasing, reducing the country to a pariah state, knowingly giving a terrorist organization status on par with a sovereign state and a democratic government were the characteristics of those led by Ranil Wickremasinghe that went on to sign 2002 infamous ceasefire agreement today described as one of the greatest betrayals of the nation.
The supporters of the ceasefire were those that equated the removal of checkpoints giving them freedom of movement as a victory for freedom and peace to the entire nation. Little did these people think what these "removals" and carte blanches would eventually mean to the entire nation.
Lust for power is no different from those unwilling to give up power. Similarly, those that hunger for personal glory and international acceptance rarely view what is good for the nation above their personal gains. These weaknesses as one should view them led to the blindness to the reality of what the 2002 ceasefire agreement would entail. The lack of consultation and the total disregard to the views of the People of Sri Lanka depicted arrogance of those that hungered for personal glory. The lessons are that these very protagonists signatory to the agreement and those that praised it and spoke in favor of it are not suited to be entrusted with handling any matters related to Sri Lanka's sovereignty and territorial integrity – ever. Unfortunately, some of these players continue to hold key portfolios and continue to maintain the same mentality and questions those that watch these officials once again attempt to dig Sri Lanka's grave.
It was Kathy Stone writing to the Weekend Liberal in 2002 that exposed how LTTE would have used Charles Gnanakone to strike a deal with the UNF Government that led to the 2002 CFA. Incidentally, it was Gnanakone's brother who smuggled shipments of weapons to the LTTE via our own customs.
It was Ranil's Chief Negotiator and our present Foreign Minister who went to the extent of requesting the lifting of the ban on the LTTE that his predecessor Mr. Lakshman Kadiragamar worked hard to achieve. Did we also forget to say that this same Chief Negotiator and present Foreign Minister called Anton Balasingham as "Your Excellency"!
It was Subramaniam Swamy who declared that the UNF Government of Ranil Wickremasinghe functioned according to a "Surrender Mentality" and when the entire show was being led by a Chief Negotiator and present FM we realize that same mentality prevails. The question is did the present Government win a war to succumb to surrender? The bargaining was what was missing on the side of SL at all times throughout the peace talks and this same policy is what the present FM continues to follow – why are the Sri Lankan leaders not reading between the lines of the dangers likely to result. GLP called his victory of negotiating the CFA deal with the LTTE a "road map for peace" – yes, he remains our FM.
It was Madam Maria Carrilho, Member of the EU Parliament and Head of Parliament Delegation for Relations with South Asia who went on to say that a new autonomous State will emerge as a result of the CFA and a flag and new anthem should also be given and the then PM's secretary appears not to have even protested against it.
Let us first look at some key facts:
Date Signed : CFA MOU signed on 22 February 2002
Signatories : GOSL and LTTE (Ranil Wickremasinghe and Prabakaran) Ranil signed agreement and handed it to Norways Ambassador John Westburg in Vavuniya, while Prabakaran signed in Kilinochchi.
Mediator : Norwegian Government
Important:
Ranil Wickremasinghe (then Prime Minister of UNF Government) did not inform his own cabinet nor the President of Sri Lanka (Chandrika Bandaranaike) of the agreement being signed.
The nationalists viewed the signing as one of the greatest betrayals of the nation no different to the signing of the Kotte Kingdom to the Portuguese  by Don Juan Dharmapala and the signing of the Kandyan Convention on 2 March 1815 to the British
6 rounds of talks abroad were subsequently held between GOSL and LTTE – all failed.
Significant was the Karuna-split from LTTE in March 2004
Sri Lanka Monitoring Mission were empowered to only tabulate the violations and NOT to prevent or punish
Key personnel involved in 2002 ceasefire
Government Chief Negotiator – GL Peiris
Defence Minister – Tilak Marapana "I have no intention at all in waging war with the LTTE at the moment. We have embarked on a peace mission and our target today, and my role as Defence Minister, is not to plan strategy to attack but merely to ready ourselves to defend"
Secretary Defense (Dec 2001) – Austin Fernando http://groundviews.org/2008/11/02/interview-with-austin-fernando-a-peacetime-secretary-of-defence-in-sri-lanka/
Chief Spokesman/Secretary for the UNF – Bradmon Weerakoon later to be the Secretary to the PM and thereon to ICES NGO
Head of S L Peace Secretariat – Bernard Goonetilake and Jayantha Dhanapala
Deputy Director General, Peace Secretariat in Colombo, Dr. John Gunaratne
Head, LTTE Peace Secretariat, S. Puleedevan
Head, SLMM, Tryggve Tellefssen
Army Commander – Gen. Balagalle (25 Aug 2000 – 30 Jun 2004)
SL Legal – Lakshman Marasinghe
What the LTTE gained from the CFA
Sri Lanka's sovereignty betrayed
· LTTE violated the CFA on more than 10,000 occasions · Impunity for Crimes – From 22 February 2002 to 4 February 2006 – LTTE ceasefire violations number 5464. LTTE killed 174 security forces personnel and 388 civilians while 117 were attempted murders, 620 abductions, 46 attempted abductions, 106 cases of extortion, 2199 conscriptions, 875 injury to persons, 22 instances of torture, 128 cases of intimidation (GOSL)· February 2002 to April 2005 LTTE had recruited 1200 children to turn into killers

· LTTE granted an official recognition through CFA (as first clause mentions SL State and LTTE as equal stakeholders

· CFA helped legitimize LTTE's defacto state.

· LTTE cadres were allowed to freely move throughout Sri Lanka

· LTTE got Ranil to dismantle the Army's Long Range Reconnaissance Unit (Athurugiriya Safe House) LTTE's suicide cadres and pistol gangs ended up killing virtually all of Sri Lanka's intelligence units whose names were divulged by the UNF Govt

· LTTE smuggled shipments of arms, sophisticated communication equipment through SL's own customs and there are officials and advisors even with the present Govt who were responsible for those approvals.

· These smuggled equipment helped LTTE build an air strip with the asphalt meant for the A9 Highway, assemble small planes

· LTTE even built illegal bunkers in Govt controlled areas

· Ranil's Govt gave LTTE 95% of their Eelaam and the rest the LTTE planned to secure through the ISGA/PTOMS with the former President playing Santa with Sri Lanka.

· Constitutional violation – for Ranil Wickremasinge to sign an agreement with a proscribed terrorist· The MOU was signed without the consent of the People of Sri Lanka (much like how the same UNP Govt signed the Indo-Lanka Agreement again without the consent of the People)· 2002 CFA was really an unauthorized secret MOU which Ranil Wickremasinghe did not share with his own cabinet or the President of Sri Lanka

· Equating a terrorist organization with a legally established armed forces of a nation

· Forcing the armed forces to shake hands with terrorists who were killers

· Armed forces were continuously humiliated by LTTE

· Security Forces restricted to barracks

· The free access given to LTTE resulted in LTTE assassinating Sri Lanka's intelligence unit members (violating Article 1 of CFA)

· Maj. Muthalif – Army intelligence May 31, 2005

· Lt. Col. T. Rizvi Meedin – Senior Military intelligence

· UNF Government disclosing Sri Lanka's long range deployment members causing their deaths by LTTE who hunted them down one after the other (Millenium City Athurugiriya)

· Lakshman Kadiragamar – SL Foreign Minister

· Lt. Gen. Parami Kulatunga – Deputy Chief of Staff of Army

· Journalist Sivaram (Taraki) in Colombo on April 28, 2005
Article 1: The Modalities of the Ceasefire Agreement
· Neither party to engage in any offensive military operation (total cessation of all military action – inclusive of ambushes, assassinations, abductions, destruction of civilian or military property, suicide missions, activities by deep penetration units, aerial bombardments, offensive naval operations,
· SL army can continue to perform legitimate task of safeguarding the sovereignty and territorial integrity of Sri Lanka without engaging in offensive operations against the LTTE
· Separation of Forces:
o   Forward defense locations – GOSL and LTTE can hold their ground positions maintaining separation of 600metres, movement possible but an absolute minimum distance of 400metres to be kept between them.
· GOSL and LTTE to provide information to the Sri Lanka Monitoring Mission (SLMM) regarding defense localities in all areas and SLMM will draw up demarcation lines.
· GOSL and LTTE cannot move munitions, explosives or military equipment into area controlled by the other Party.
· Tamil paramilitary groups to be disarmed by GOSL.
· Freedom of movement:
GOSL and LTTE shall stay in areas under their respective control
Unarmed GOSL troops shall be permitted unlimited passage between Jaffna and Vavuniya using Jaffna-Kandy road (A9)
"individual combatants" unarmed and in plain clothes can visit families and friends under control of GOSL and visits to be limited to 6 days every second month.
GOSL and LTTE reserve right to deny entry to specified military areas.
50 unarmed LTTE members shall for political work be permitted freedom of movement in areas of North and East dominated by GOSL.
100 unarmed LTTE members shall be permitted freedom of movement as of D-day +60, and all unarmed LTTE members shall be permitted freedom of movement as of D-day+90.
LTTE members to carry ID papers.
GOSL has right to deny entry to specified military areas
Article 2 : Measures to restore normalcy
GOSL and LTTE to undertake confidence-building measures to restore normalcy.
GOSL and LTTE shall abstain from hostile acts against civilian population including acts as torture, intimidation, abduction, extortion and harassment.
GOSL and LTTE shall refrain from engaging in activities or propagating ideas that could offend cultural or religious sensitivities. SL Army to vacate all places of worship that it is occupying.
GOSL and LTTE to vacate school buildings
A schedule to indicate return of all other public buildings
GOSL and LTTE to review security measures and checkpoints particularly in densely populated cities and towns to prevent harassment of civilian population (indirectly aiming at reducing Colombo's high security checkpoints)
GOSL and LTTE to ensure unimpeded flow of non-military goods to and from the LTTE-dominated areas with exception of certain items.
GOSL and LTTE to establish checkpoints at locations on their line of control to facilitate flow of goods and movement of civilians.
GOSL and LTTE to ensure Trincomalee-Habarana road remains open 24×7 for passenger traffic
GOSL and LTTE to facilitate extension of rail service on Batticoloa-line to Welikanda – repairs to be done by GOSL.
GOSL and LTTE to open Kandy-Jaffna road (A9) to non-military traffic of goods and passengers modalities to be worked out with Norway
Easing of fishing restrictions – but fishing will not be permitted in harbours or approaches to harbours, bays and estuaries along the coast.
Norway to appoint Head of Sri Lanka Monitoring Mission (HoM) who will be final authority regarding interpretation of CFA.
SLMM to liaise with GOSL and LTTE and report to Norway
Head of SLMM to decide date of SLMM's operations.
SLMM will have offices in Colombo, Jaffna, Mannar, Vavuniya, Trincomalee, Batticoloa, Amparai
GOSL and LTTE agree that search operations and arrests under Prevention of Terrorism Act shall not take place. Arrests will be under Criminal Procedure Code.
Article 3: The Sri Lanka Monitoring Mission
To inquire into instances of violation of the Agreement
Local monitoring committee in each of the 6 offices set up shall have 5 members (2 appointed by GOSL, 2 by LTTE and 1 appointed by HoM) the international monitor shall chair committee.
The local committee shall advise SLMM
GOSL and LTTE responsible for protection and security arrangements of all SLMM members.
SLMM shall have access to areas where violations take place
SLMM to take immediate action on complaints made by GOSL or LTTE
Article 4 : Entry into force, amendments and termination of the Agreement
GOSL and LTTE to notify consent to be bound by the Agreement through letter to the Norwegian Foreign Affairs Ministry.
Agreement may be amended and modified by mutual agreement
Termination of agreement can be given by either Party to Norway within 14 days of advance notice.
The number of violations committed by the LTTE was well over 10,000 as many of these were not even tabulated. The LTTE violations included constructing new positions, firing weapons, moving military equipment, deploying weapons, carrying out offensive naval operations, illegally transporting arms and committing hostile acts against civilians which included intimidation and abductions of adults and children –  every clause of the agreement violated by the LTTE and not a hum from even Norway or SL Government that signed the agreement.
The very fact that those signatory agreed to place LTTE a terrorist organization in par with a democratic government itself is shameful and allowing LTTE free movement and the capacity to virtually redraw their boundaries only sums the fact that there is no better word to describe these protagonists of the ceasefire than "traitors".