"Continued attacks have created insecurity among fishermen": Jayalalitha
Posted by Editor on November 17, 2011 - 1:49 pm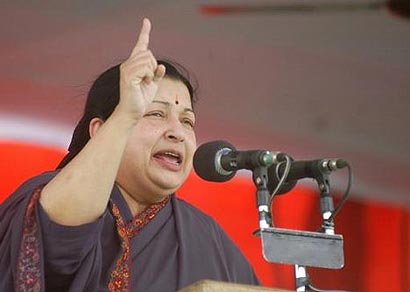 The Centre should assert itself with the Sri Lankan Government to control the "rogue elements in the Sri Lankan Navy" who continue to indulge in acts of physical assault on innocent fishermen from Tamil Nadu, said Chief Minister Jayalalithaa.
In her fifth letter to the Prime Minister, after assuming charge as the Chief Minister in May, Ms. Jayalalithaa said the continued attacks on Tamil fishermen have created a feeling of insecurity among the fishermen community and despair over the apparent inaction of the Centre to prevent such attacks despite the State's repeated requests.
The attacks on Tamil fishermen, who, for several generations, are engaged in fishing for their livelihood in the Palk Bay area, has to be treated as a national issue since such attacks should be construed as attacks on India, she said.
The attacks and harassment of the Tamil fishermen by the Sri Lankan Navy has caused great unrest amongst the people in the State and despite the Prime Minister taking up the issue with the Government of Sri Lanka and their stated assurances in this regard, the attacks continued unabated and the situation was worsening day by day, Ms. Jayalalithaa said.
Recalling the latest incident which occurred on November 15 when a fisherman of Rameswaram was seriously injured when Indian fishing boats were attacked, allegedly by the Sri Lankan Navy personnel, near the International Maritime Boundary Line (IMBL) off Kachchatheevu, she said it has been reported that as many as 15 Sri Lankan Navy men came in a high-speed patrolling vessel and threw stones on the fishermen. This resulted in a severe head injury to Selvaraj, a fisherman, who started bleeding profusely and had to be brought ashore with the help of his fellow fishermen and admitted in hospital for treatment.
Sharing her apprehension of the "double standards" adopted by the Sri Lankan government, which issued statements on the need for treating the straying fishermen on a humanitarian basis, but continued to be silent on the attacks launched by its own Navy, Ms. Jayalalithaa sought the Prime Minister's urgent action in this regard.
Source: The Hindu
Latest Headlines in Sri Lanka