64 die in bomb attacks in Uganda during World Cup
Posted by Editor on July 12, 2010 - 2:11 am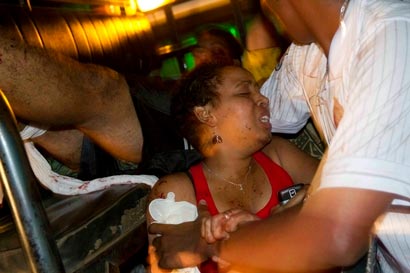 KAMPALA, Uganda – In simultaneous bombings bearing the hallmarks of international terrorists, two explosions ripped through crowds watching the World Cup final in two places in Uganda's capital late Sunday, killing 64 people, police said. Americans were among the casualties.
The deadliest attack occurred at a rugby club as people watched the game between Spain and the Netherlands on a large-screen TV outdoors. The second blast took place at an Ethiopian restaurant, where at least three Americans were wounded.
Kampala's police chief said he believed Somalia's most feared militant group, al-Shabab, could be responsible for the attack. Al-Shabab is known to have links with al-Qaida, and it counts militant veterans from the Iraq, Afghanistan and Pakistan conflicts among its ranks.
A head and legs were found at the rugby club, suggesting a suicide bomber may have been to blame, an AP reporter at the scene said.
At least three Americans — part of a church group from Pennsylvania — were wounded at the Ethiopian restaurant. One was Kris Sledge, 18, of Selinsgrove, Pennsylvania
"I remember blacking out, hearing people screaming and running," Sledge said from the hospital. His right leg was wrapped and he had burns on his face. "I love the place here but I'm wondering why this happened and who did this … At this point we're just glad to be alive."
At the scenes of the two blasts, blood and pieces of flesh littered the floor among overturned chairs.
Police Chief Kale Kaihura originally said at least 30 people had been killed, though the toll could be higher.
Later, a senior police official at the scene said that 64 people had been killed, 49 from the rugby club and 15 at the Ethiopian restaurant. The official said he could not be identified.
Kaihura said he suspected al-Shabab, that country's most feared militant group. Its fighters, including two recruited from the Somali communities in the United States, have carried out multiple suicide bombings in Somalia. If Kaihura's suspicions that al-Shabab was responsible for the Uganda bombings prove true, it would be the first time the group has carried out attacks outside of Somalia.
In Mogadishu, Sheik Yusuf Sheik Issa, an al-Shabab commander, told The Associated Press early Monday that he was happy with the attacks in Uganda. Issa refused to confirm or deny that al-Shabab was responsible for the bombings.
"Uganda is one of our enemies. Whatever makes them cry, makes us happy. May Allah's anger be upon those who are against us," Sheik said.
___
Associated Press reporters Mohamed Olad Hassan in Mogadishu, Somalia, and Godfrey Olukya in Kampala, contributed to this report. Straziuso reported from Nairobi, Kenya.
Latest Headlines in Sri Lanka