Constitution should not be amended for personal reasons – President: PA-UNP agree on Executive Premier
Posted by Editor on July 13, 2010 - 1:24 am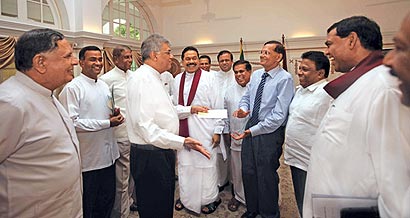 The People's Alliance (PA) and the United National Party (UNP) agreed to create a post of an Executive Premier who would be responsible to Parliament through a Constitutional amendment at a future date. This was a proposal submitted to the All Party Conference by the Sri Lanka Freedom Party (SLFP). This decision was taken at a meeting of a PA delegation led by President Mahinda Rajapaksa and a UNP delegation led by Opposition Leader Ranil Wickremesinghe at Temple Trees yesterday.
President Mahinda Rajapaksa was of the opinion that the Constitution should not be amended for personal reasons as it is essential to do so under a definite vision. He said the present Executive Presidency has been created as a lone post and that it should be transformed into that of a Head of State who would be responsible to and would co-operate with the Parliament.
Ministers Dinesh Gunawardena and Basil Rajapaksa explained to the UNP delegation the basis on which the forthcoming Local Government elections could be held. The two sides also discussed the issue of empowering the statutory bodies under the 17th Amendment to the Constitution. They agreed to empower these bodies and accepted that officials appointed to them should be responsible to the Cabinet of Ministers.
Both sides agreed on the necessity of a stable Government and agreed that a future Constitutional reform should ensure such stability. They also agreed to implement the decisions taken through a committee comprising representatives of both sides.
The PA was represented by President Mahinda Rajapaksa and Ministers Maithripala Sirisena, Nimal Siripala de Silva, Susil Premajayantha, Dinesh Gunawardena, Basil Rajapaksa and Dullas Alhapperuma. The UNP was represented by Opposition Leader Ranil Wickremesinghe and Parliamentarians Karu Jayasuriya, Gamini Jayawickrema Perera , Tissa Attanayake and Joseph Michael Perera.
Daily News
Latest Headlines in Sri Lanka